Alumni Card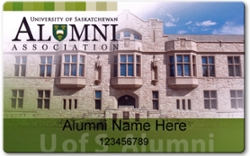 As soon as you graduate, you become part of the U of S alumni family. As an alumnus you are eligible for many great benefits and services.
Your Alumni Card serves as proof of eligiblity and is available to at no charge to all U of S graduates, including honourary and associate members of the Alumni Association.
3 cards in 1.
1. Use it as identification to access your benefits and services.
2. Have it programmed as your access card when you purchase membership at the PAC.
3. Have a barcode added to the back of it at any U of S Library and use it to borrow books.