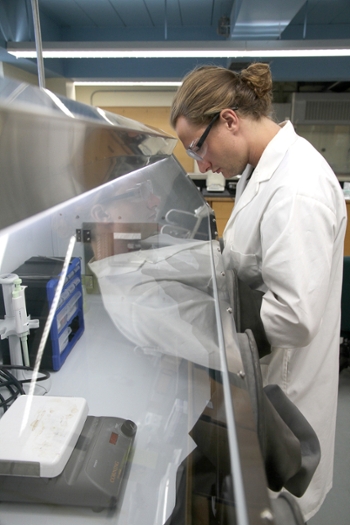 At times, his academic and athletic schedule bleed into one another. He will study until the early hours of the morning in the library, grab a few hours of sleep and return to campus to board the game bus with his teammates, off to another province to represent the U of S Huskies. "Despite the sacrifices, it has been worth it," Jesse asserts.
From the time he was 18 years old, Jesse knew with certainty these two things:
1. He wanted to play football.
2. He wanted to pursue a higher education.
When he was offered a spot on the Huskie football team, he was overjoyed. He recognized it would be difficult to balance a demanding athletic schedule while pursuing a degree in engineering physics, but his competitive nature and motto—that hard work pays off in the end—had him moving forward at a fast and furious pace.
This pace would successfully propel him through four years of schooling, until recently when everything came to a stop.
Jesse suddenly found himself sidelined from his motto and the game he adored. He had developed a serious hip injury and would require surgery, with extensive physiotherapy to follow.
Physiotherapy would be required during the summer, which would interfere with taking a full-time job to help pay for his schooling. He would have to choose between his health and education.
Fortunately, Jesse never had to make this choice, thanks to the Ruth and Eber Pollard Scholarship. "When I received news that I was the recipient of this amazing scholarship, I made the decision to take a class over summer so that I would have time to rehab my hip," said Jesse.
That class was paid for by the Pollards' support, and gave Jesse reassurance that hard work does pay off. "To be recognized for your hard work and know that people believe in you is a feeling like no other," he says. "This is the beauty of giving. No matter what the recipient is going through, the support of receiving an award can only bring about positive change. For that I would like to thank the Pollards and all other university donors for their inspiring generosity."
Jesse is now looking to the future and where his education might take him. For Jesse, hard work, dedication and passion will always fuel a person forward in life. He likes to think that Ruth and Eber Pollard stepped in at the perfect time to remind him of this—it's how you play the game.
If you would like to support students' ambitions through a gift in your Will, please contact us today.
Bev Cooper
Associate Director of Development (Gift Planning)
306-966-2416 or 1-800-699-1907
gift.planning@usask.ca