"In the first year we were putting together the framework for the class," says David, "and the market was our textbook."

That framework laid the foundation for a very popular – and successful – class that allows senior-level business students to invest real money in the stock market.

The real money came from donors to the School, and is named The George S. Dembroski Student-Managed Portfolio Trust in honour of George Dembroski, who committed $300,000 of a $1 million donation to Edwards to kick start the fund in 2011.

Dembroski, an Ontario-based chartered accountant and former vice-chairman and director of RBC Dominion Securities Ltd., made the donation to mark the over 15 years he spent on the Cameco Board of Directors. "I wanted to recognize the vitality of the Saskatchewan business community by investing in local education," says Dembroski.

When N. Murray Edwards (BComm'82, LLD'11), the School's namesake, heard about the fund, he was inspired to donate $200,000, and longtime supporters of the university Scott and Grit McCreath (BComm'69 and BEd'91) also committed $25,000, bringing the portfolio total up to $525,000 to invest starting in 2012. Since then, more donors have stepped forward to bring the fund up to $1 million.

On October 28, 2015, the students in this year's class, led by their professor Dr. George Tannous, announced that their investments have literally paid off. Their $1 million has grown to $1.4 million in just 3 years of investing.

These students are now working with one of the largest portfolios in Western Canada. They earn significant financial returns, often exceeding those of relevant benchmark indices, with the fund producing an average annual return of 8.13 per cent since its inception.

But more importantly than money, alumni Frattinger and Solo Zhang (BComm'12, MSc'15) speak to the importance of a class that helps bridge theory to practical application while giving them a leg up in the job market.

Says Zhang, "As a student, I took many classes covering various subjects in finance, but rarely had opportunities to apply them in a real-life setting, especially on the Canadian prairie where 'stock' can mean quite a different thing. This program offered us precious and unique opportunities to make real money decisions which potential employers value."

Frattinger wholeheartedly agrees. He now works as an Investment Banking Analyst at BMO Capital Markets after starting with the company's summer internship program four years ago. "All of the interns that I worked with in the program were involved in a student managed portfolio of some kind," says David.
"There is ample evidence that students learn best when they roll up their sleeves and get deeply involved," says Dean of the Edwards School of Business Daphne Taras. "Experiential learning is a trend at the Edwards School and the university as a whole."
Tannous says the transformation of the students during the school year is remarkable. "Many students came to the class with the idea that they could outsmart the market and get rich quick but they graduated with the realization that they need hard work, discipline, and well-designed strategy to survive in a risky market," he says. "The practical experience that they went through is the only way to make these transformations."
The trust is overseen by a board of trustees, including investment professionals, alumni, finance faculty and students. A portion of the income students earn is reinvested into the portfolio and the remainder provides benefits to Edwards students. Five to ten students receive scholarships from the fund each year and the curriculum now includes an annual trip to New York City for a competition on Wall Street against more than a thousand students from around the world.
"Through guidance, coaching, inter-group discussions, critical feedback from peers and self-motivated learning, they transform into wise managers, ready and confident to invest in the turbulent financial market," adds Tannous.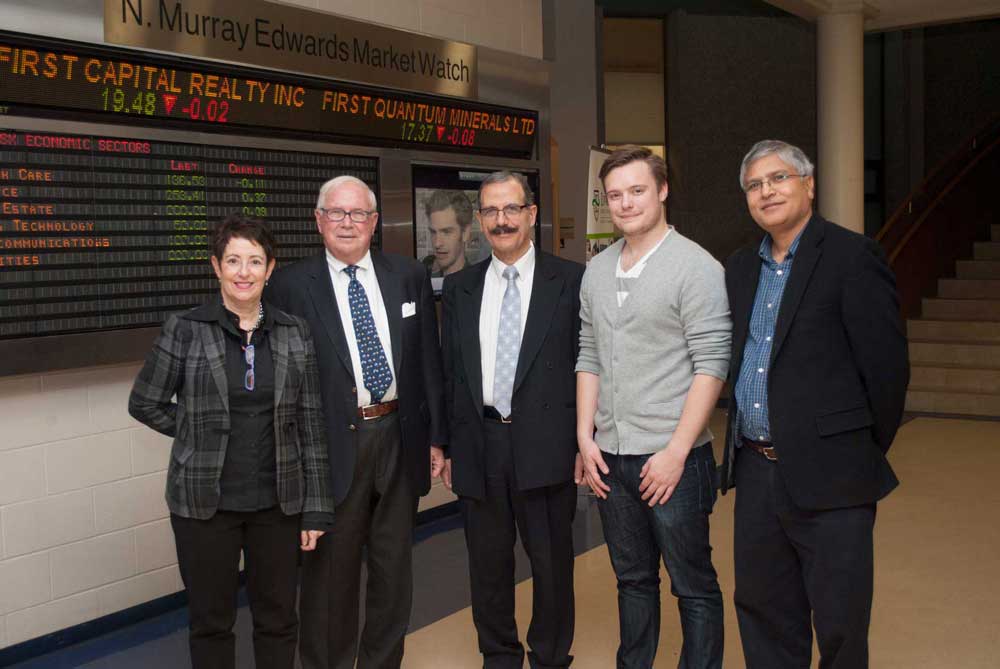 Dembroski, who attended the milestone celebration last week says, "The objective for my donation was to create an environment at the Edwards School of Business where student interest in stock trading and portfolio management would be greatly enhanced. Since the fund's inception, the school has applied all the tools necessary to make the student managed portfolio trust a real experience. It has been a great success."
"Because of this portfolio's size and our students' performance, we have entered the top echelon of business schools in providing investment experience to students," says Daphne Taras, dean of the Edwards School of Business. "This initiative has been a game-changer for the school."
"This is one of the most beneficial classes I've taken in university.  You're learning something tangible, you're getting real-world experience. And when I leave the class, I can look at investments and be confident in what I'm doing," says Parker Lazeski, who graduated earlier this year.
Adds classmate Fuji Stokes, "Overall, I just found the class to be a giant cornucopia of awesomeness."