2023 Lifetime Achievement Award Winners
As the highest honour presented by the University of Saskatchewan Alumni Association, this award recognizes an alumnus/alumna for an outstanding lifetime of personal and professional accomplishments and contributions to the social, cultural, and economic well-being of society in their field(s) of endeavor.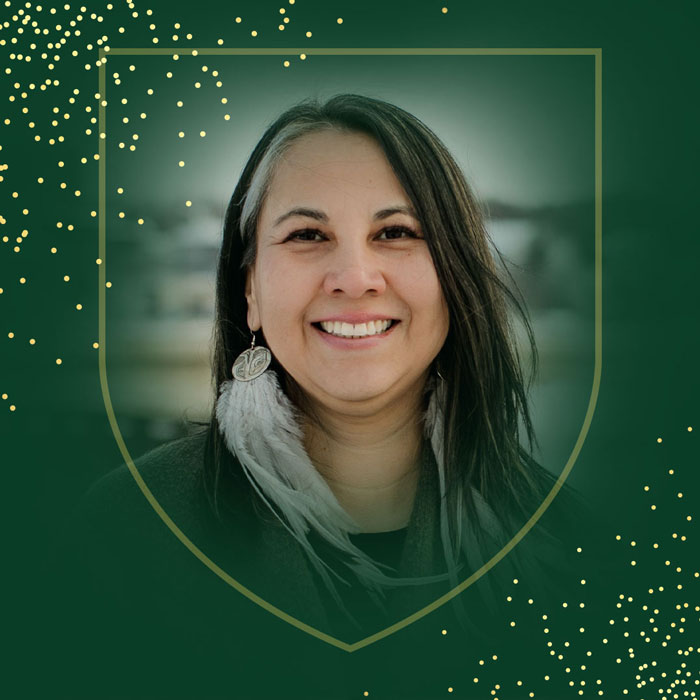 Lifetime Achievement Award
Dr. Belinda (kakiyosēw) Daniels' work to preserve and teach Indigenous language is transformative and nation-building for Indigenous people. 
 
Daniels is from the community of pakitahwākan sākahikan – Sturgeon Lake First Nation, Sask. She is a faculty member at the University of Victoria and founder of the nēhiyawak Language Experience, a non-profit organization. She was awarded the Outstanding Indigenous Educator Award of 2015 by the Canadian Teachers' Federation. Her work in Indigenous language revitalization has also been recognized by the Federation of Sovereign Indigenous Nations. 
 
Daniels co-published the book, nēhiyawētan kīkināhk: Speaking Cree in the Home, which was nominated for a Saskatchewan Book Award and a 'how-to' guidebook for creating a language camp. She is co-authoring another book on the topic of learning survival phases for immersion settings in an Indigenous language. Read more.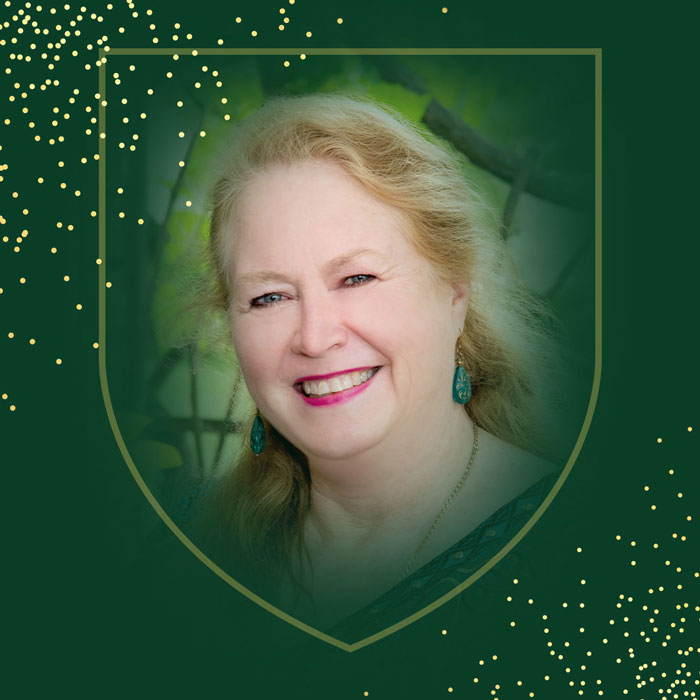 Lifetime Achievement Award
After nearly 37 years in the non-profit sector, Arla Gustafson has been a leader in shaping a strong philanthropic culture in her community. 
 
Following a decades-long career as Executive Director of the Elizabeth Fry Society and CEO of United Way of Saskatoon, Gustafson served for 15 years as CEO of the Royal University Hospital Foundation, where she oversaw a $140 million fundraising effort to advance research, education and patient care at the Royal University Hospital and the College of Medicine.
 
Gustafson has been active as a volunteer in many local and provincial organizations and has received numerous awards including Outstanding Fundraising Professional from Association of Fundraising Professionals Saskatoon, Canada's 125 Medal, the Lieutenant-Governor's Saskatchewan Centennial Medal, YWCA Women of Distinction and Saskatoon's Centennial 100 People Award. Read more.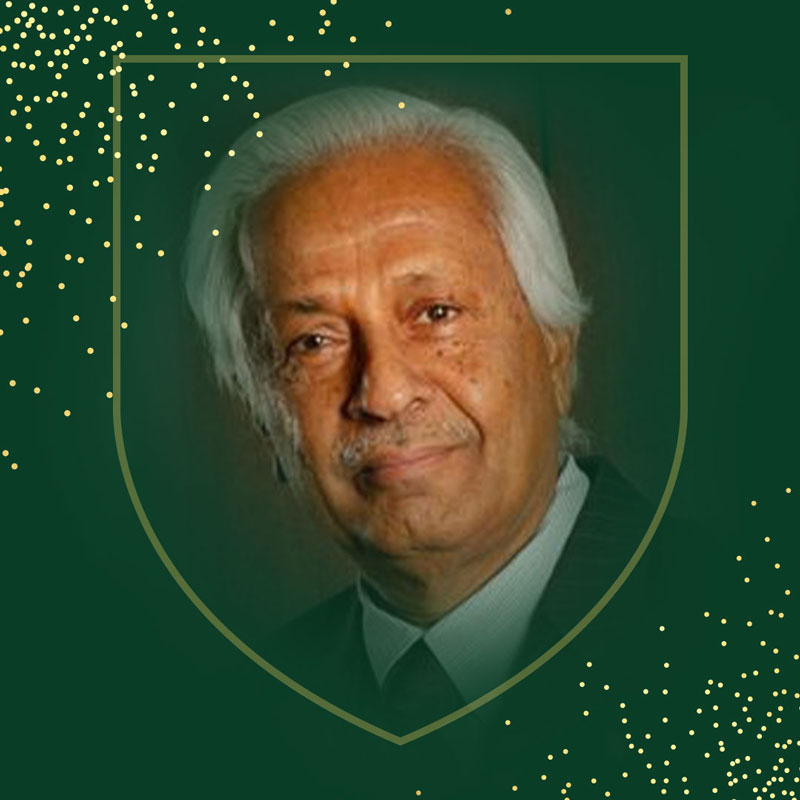 Lifetime Achievement Award
In nearly six decades, Dr. M.N. Srikanta Swamy has established himself internationally as a leading researcher and educator with pioneering contributions. 
 
Dr. Swamy is one of the first two students to receive a PhD from USask's College of Engineering in 1963. He is the founding chair of the Electrical and Computer Engineering Department at Concordia University and after serving as chair, he became Dean of Engineering and Computer Science for 16 years.
He is the first Canadian to become president of the Institute of Electrical and Electronic Engineers (IEEE) Circuits and Systems (CAS) Society and the only Canadian to have received the Van Vlakenburg Award, the highest award from the society.  
 
He has published more than 350 journal articles, holds five patents, has co-authored nine books and has supervised/co-supervised more than 50 doctoral theses. 
 
Among his many significant recent research discoveries is an evaluation of a method for using deep learning techniques to determine early diagnosis of Alzheimer's Disease. Read more.
2023 Outstanding Impact Award Winners
This award recognizes an extraordinary alumnus/alumna who is currently making significant personal and professional contributions in society, demonstrating exceptional leadership in their field(s) of endeavour, maintaining a standard of excellence that inspires their colleagues and peers, with promise of future achievement and resulting in a demonstrable betterment of their community.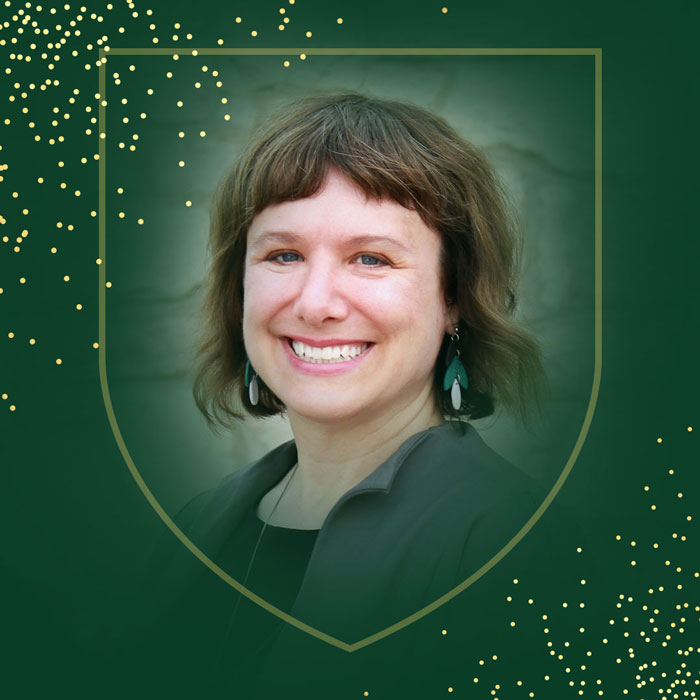 Outstanding Impact Award
Prior to joining the College of Law at USask, Buhler practiced law in Saskatoon, taught as a sessional lecturer and served as the first executive director and supervising lawyer at Community Legal Assistance Services for Saskatoon Inner City (CLASSIC), an organization that provides free legal services for low-income residents, and that has received local, national, and international recognition. Professor Buhler teaches courses in the areas of housing law, clinical law and legal ethics, and is the recipient of several USask teaching and research awards.  
 
She is committed to community-engaged research and teaching, and in addition to her ongoing collaborations with CLASSIC, has worked recently with the Canadian Centre for Housing Rights and the National Right to Housing Network on projects relating to human rights and eviction prevention. 
 
In addition to receiving several accolades and awards, most recently including the Queen's Platinum Jubilee medal, the Association for Canadian Clinical Legal Education established an award in Buhler's honour. Read more.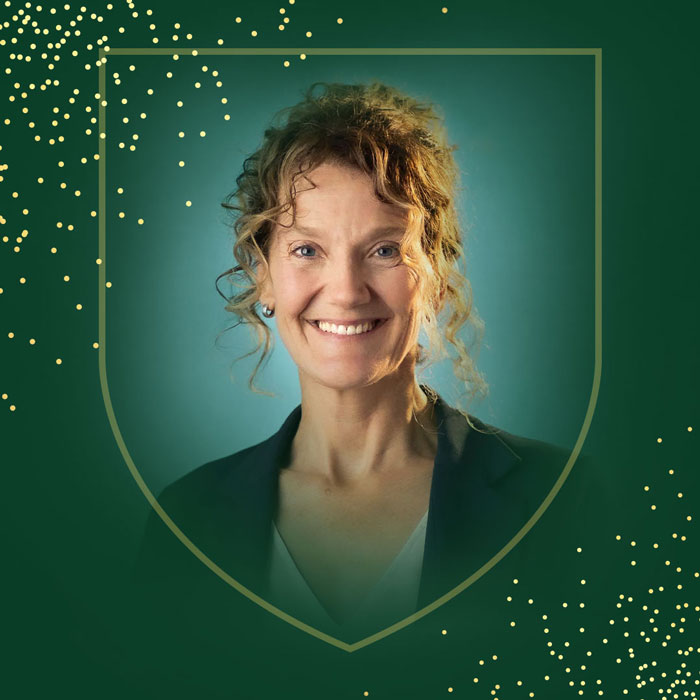 Outstanding Impact Award
Shauna Curry is a champion for innovation, philanthropy and social change. Her measure of success: Ensuring the entire world has access to safe drinking water. 
 
Curry is the CEO of the Centre for Affordable Water and Sanitation Technology (CAWST). Based in Calgary, CAWST is both a licensed professional engineering consultancy and a registered Canadian charity, providing training, consulting and expertise in water and sanitation in developing countries.  
 
Assuming the role of CEO in 2011, she has led the development of CAWST's global service delivery model, and expanded CAWST's reach from two countries to its current global network in almost every country in the world.
Curry mentors and serves as a role model to future water leaders at home and internationally. Read more.
2023 One to Watch Award Winner
This award recognizes a young alumnus/alumna who is making significant personal and professional contributions in society, resulting in a demonstrable betterment of their community, and setting an example for fellow and future alumni to follow.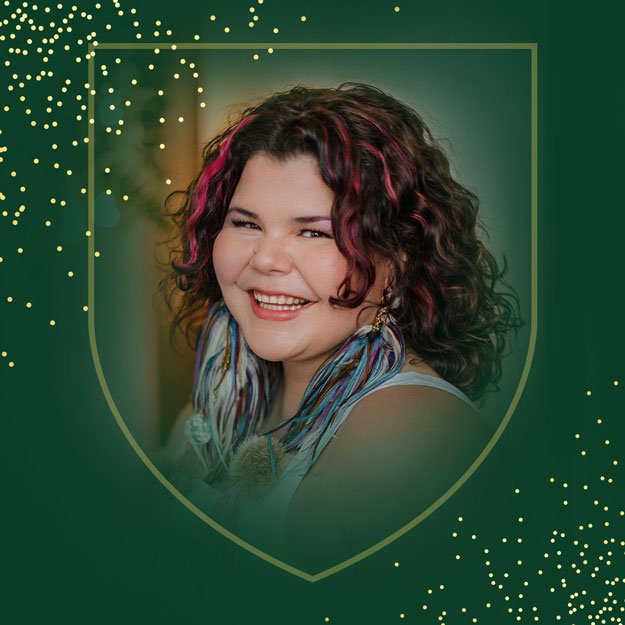 One to Watch Award
An educator and a creative force, Zoey Roy is building her career of connecting with young people and bringing messages of anti-racism and healing into classrooms across the country.  
 
A graduate of the College of Education and the Johnson Shoyama Graduate School of Public Policy, Roy is a consultant and teacher for organizations such as Three Things Consulting, the National Arts Centre, Taking IT Global, and the Gord Downie & Chanie Wenjack Fund.  
 
She has written two books: The memoir Homecoming, and The Voyageurs: Forefathers of the Métis Nation. In 2021, she served as Indigenous Storyteller in Residence with the University Library at USask. 
 
Roy has been honoured with the Queen Elizabeth II Diamond Jubilee Medal, Congress of Aboriginal Peoples National Youth Leadership Award, Indspire Award, the Saskatchewan Arts Award for Arts and Learning, CBC Saskatchewan Future 40 and more.  Read more.
A TRADITION OF EXCELLENCE
Learn more about the Alumni Achievement Award legacy.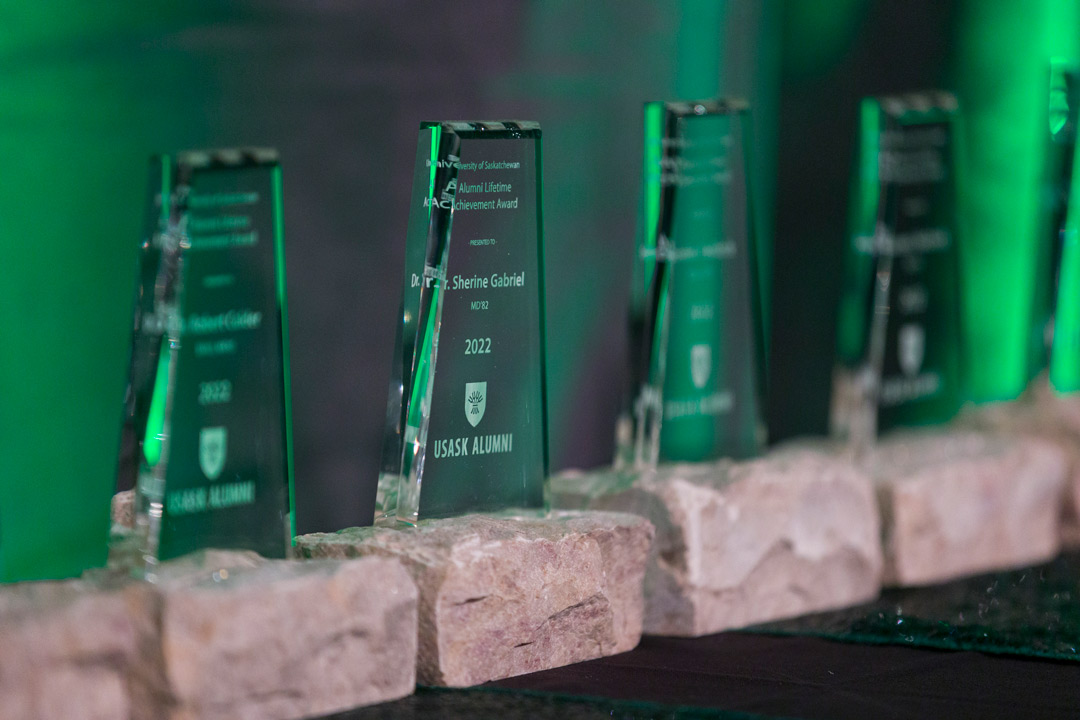 The use of greystone is intentional in our Alumni Achievement award. You might recognize it as the defining feature found on many USask buildings.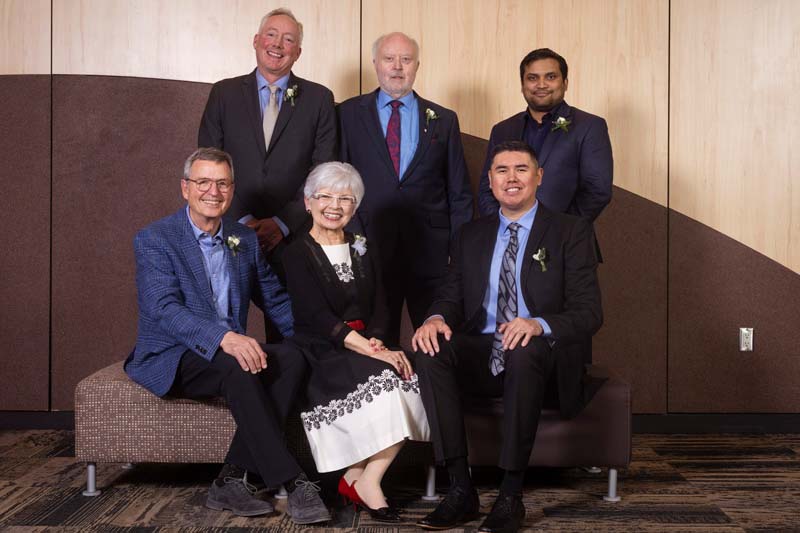 We caught up with influential past award winners to see what being a USask Alumni Achievement Award winner has meant to them.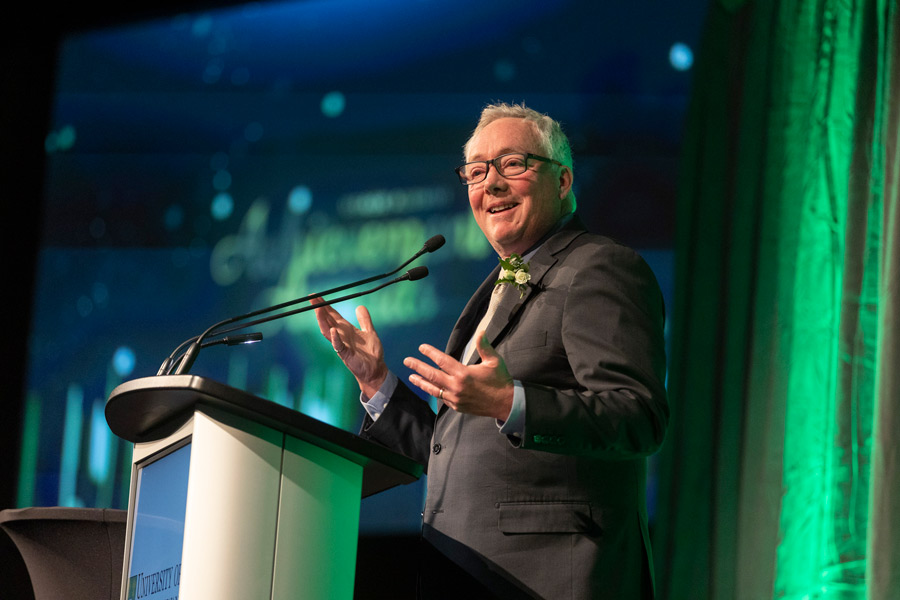 Who are Alumni Achievement Award winners? They are leaders in their fields and being what the world needs.
The Alumni Achievement Awards are presented annually to USask graduates who advance the reputation of the University of Saskatchewan and the Alumni Association. Award recipients are chosen for their outstanding achievements and innovation; commitment to excellence; community engagement and leadership; and contributions to the social, cultural and economic well-being of society.
Established in 1978, the University of Saskatchewan Alumni Association Awards honour the outstanding accomplishments of our alumni and attest to the excellence of the University of Saskatchewan educational experience.
For questions, please contact the Advancement Office at alumni.awards@usask.ca or 1-800-699-1907 / 306-966-5186.