Saskatoon Events
Backpack to Briefcase
Backpack to Briefcase speakers series runs from October 22 to April 2. All talks are at Louis' Loft at 4 pm. Don't miss your chance to attend!
March 5, 2019
The dos and don'ts to buying your first home. Speakers: Tim Hollman, BA'11 and Conrad Neufeldt, BComm'10
April 2, 2019
Mindful meditation. Speaker: Kristen Antunes, BSP'14
One Day for Students
One Day for Students is the University of Saskatchewan's annual day of giving, where the campus community, our alumni, donors and friends are invited to make a special donation that can help students overcome hurdles to their educational goals.
Look for more information in the coming weeks about how you can get involved!
March 6, 2019
SAVE THE DATE: Alumni weekend
We're busy planning this year's Alumni Weekend. Make sure to mark us in your calendars and join us as we learn, connect and celebrate on the beautiful USask campus!
 September 20-21, 2019
International Events
Riderville Arizona 2019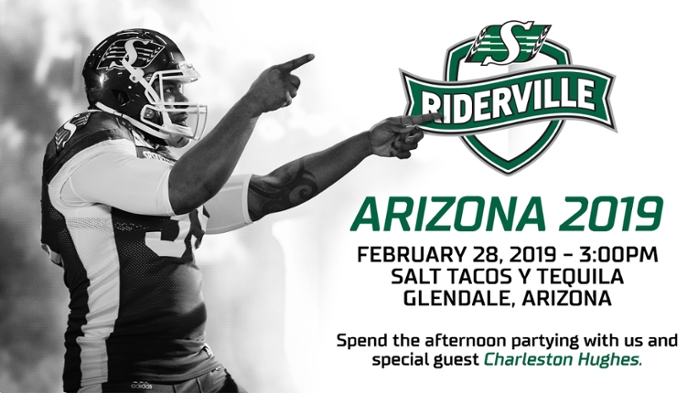 Come out and cheer with University of Saskatchewan alumni, family and friends in Glendale, Arizona as the Arizona Coyotes take on the Vancouver Canucks! 

Join Riderville and special guest, Charleston Hughes, for a pre-game social prior to heading over to the arena to watch the game.

 Thursday, February 28, 2019

Pre-Game Social
from 3 pm
 Salt Tacos y Tequila
Westgate Entertainment District
Glendale, Arizona
Arizona Coyotes vs Vancouver Canucks
7 pm
 Gila River Arena

Need tickets to the game? Get special alumni pricing on seats using the offer code "riders" and sit with USask alumni and Rider fans!

There will be an exclusive Riderville post-game photo on the ice for all who buy tickets to the game.