Events
Join us for our alumni events throughout the year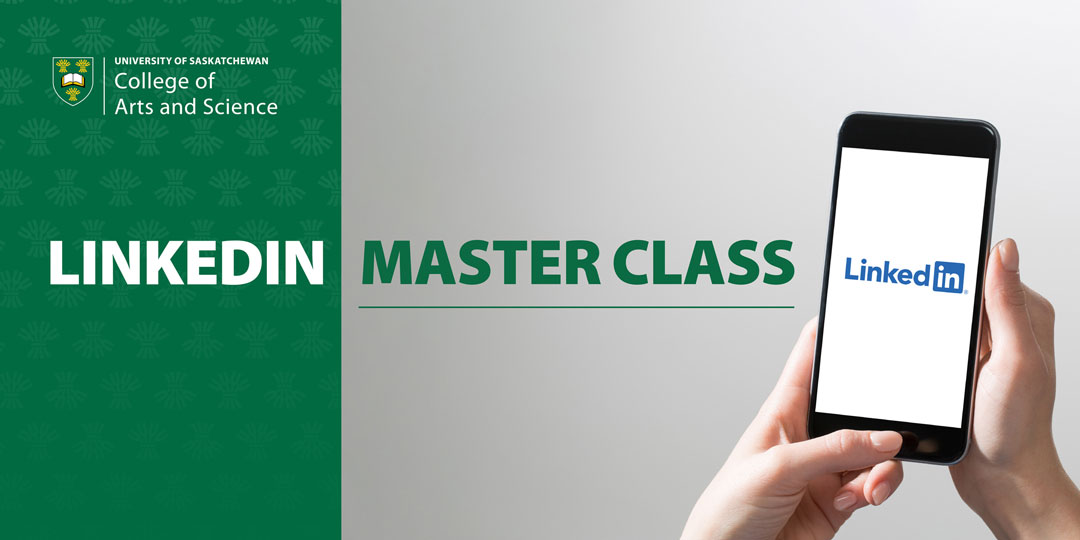 LinkedIn Masterclass
Learn how to make the most of LinkedIn as you search for jobs and build a career.
Guest speaker: Omar Garriott
Date: Tuesday, Oct. 18
Time: 12 noon–12:45 pm (Sask. time)
Cost: Free
Location: Online via Zoom (link to be sent out prior to event)
Info: alumni.artsandscience@usask.ca
PLEASE NOTE: Webinars will be recorded and made public on the College of Arts and Science YouTube channel once the webinar is over.
About this event
LinkedIn is always changing—and the savviest jobseekers change right along with it.
Omar Garriott leads Qualtrics's education business. Previously, he was the senior product marketing manager at LinkedIn, managing content, campaigns and product development for students and universities. Prior to his role at LinkedIn, he led iPad marketing to schools (K-12 and higher ed) for Apple, and led product launches to students and schools for Adobe. Garriott has also spent time as a third-grade teacher for Teach for America, as a non-profit fundraiser and a lobbyist with national social enterprise PeerForward, as a summer consultant in FSG's education practice and in social marketing with Porter Novelli. He earned a bachelor's degree with distinction in commerce from the University of Virginia and an MBA from University of California, Berkeley, Haas School of Business. He also holds a Non-profit Management Executive Certificate from Georgetown University and sporadically tweets from @socialchanger.
Missed an online event?
No problem. View all our recorded events below:
Industry Insights
Join us as these four industry leaders speak about their own, personal experiences building growth during Covid-19 and give insight into their organization's hiring priorities in these challenging times.
Celine Martin (BComm'16), manager of talent acquisition, Vendasta
Heather Ryan (BComm'96), vice-president of human resources, Federated Co-op Limited
Lindsay Rutherford (BComm'03), vice-president, global talent and organizational development, Finning
Lisa Mooney (BA'02), global lead, sustainability and strategic inclusion, Nutrien
This panel was moderated by Greg Longster (BComm'92), member of the USask Alumni Advisory Board. 
USask Alumnights Calgary Edition
Hear from Vice-President, University Relations, Debra Pozega Osburn who took us on a virtual tour of the brand new USask Calgary Hub. We will then meet some of your fellow USask graduates who are coming up with innovative solutions in their fields and learn how their time at USask prepared them for their journeys.
Meet the USask alumni you'll be hearing from: 
Graham Matheos (BSPT'99), Co-founder, One for the Road Brewing Co.
Steven Gramlich (BComm'11), Chief Marketing Officer, headversity
This conversation was opened by Erin Chrusch (BA'99, LLB'02), president, Calgary Alumni Network and Andrea Kozak (BE'14), co-president, Calgary Alumni Network and moderated by Terry Rock (BComm'93).
USask Alumni Week 2020: Hometown Happy Hour
As a former lawyer, alumnus Shawn Moen (LLB'05) took a leap of faith from professional practice into the craft beer game. His successful microbrewery, 9 Mile Legacy, is built on a sense of community and collaborating.

During the COVID-19 pandemic, Moen once again pivoted and shifted much of his business model by creating a virtual online taproom.
We invite you to kick up your feet and gain insightful knowledge into 9 Mile's most recent brews and learn what it takes to run a business during a pandemic, all from the comfort of your own home.