For the second summer in a row, Jesse Parenteau has joined the CLS as an Education Assistant. This year, he is helping to move our education resources online. "This way, we can connect with schools and teachers in a meaningful way through virtual classrooms," said Jesse. In particular, he is making animated videos that help to explain the science conducted at our facility.
Having recently completed his Bachelor of Education degree from the University of Saskatchewan, Jesse is passionate about teaching. His favourite part of his job is helping students. When asked why he wanted to come back to the CLS, he said, "I love it. This is kind of a dream job of mine. At the CLS, you get students who are there because they are passionate about science. They signed up because they wanted to do a research project. I think that's just super neat."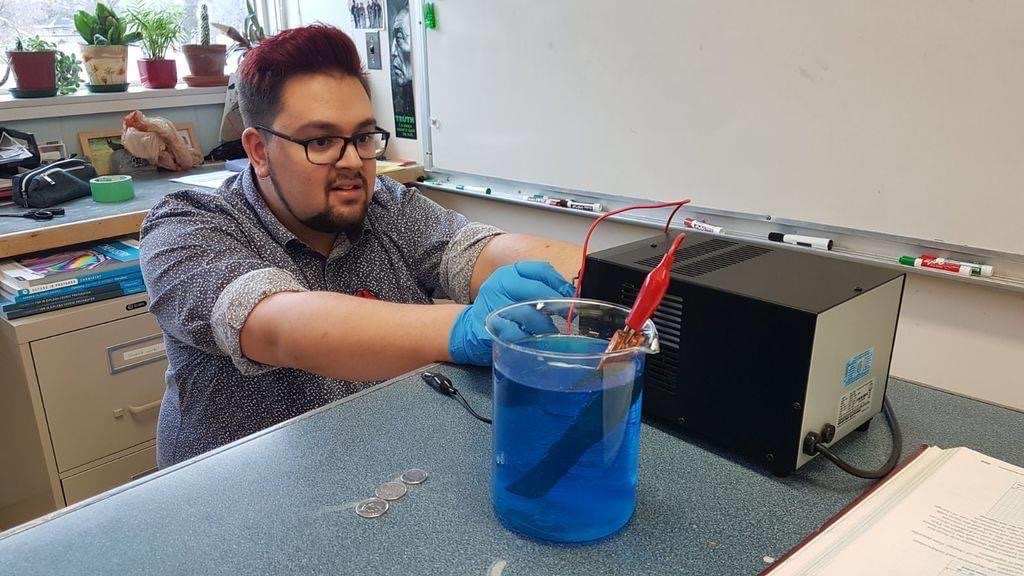 He also loves working at the CLS because he feels accepted as a gay, Métis man. "I think the CLS is one of the most inclusive places I've ever been to. Especially when it comes to ethnicity, it's one of the most diverse buildings you can find because we have employees and people coming to visit to do their research here from all over the world."
He described science as a great equalizer at the CLS. "They see you as a person who is coming here to do science, to do research and contribute to the building and the conversation. Whatever gender identity or sexual identity or ethnicity you come from, it doesn't play a factor in that, which I think is positive. It feels like one of the most welcoming places."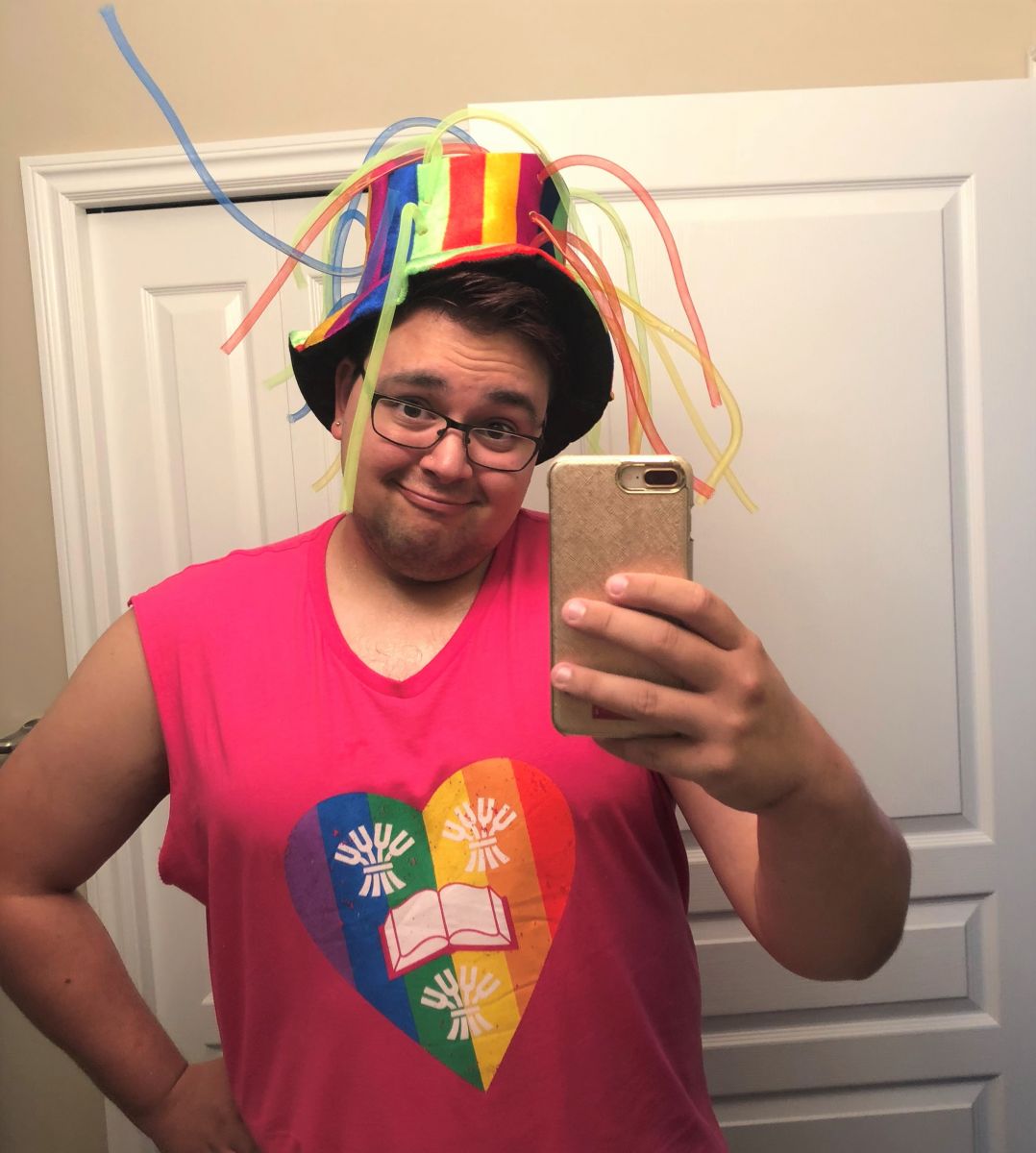 Last year, the facility created a Pride flag icon with the CLS logo on it, which Jesse proudly hung in his office. "All of my team members on the CLS education team know that I'm out and proud." His supervisor, Tracy Walker, even gave him a unicorn onesie as a gift. "I love that!" he said. "I wear it for our virtual team meetings now. I feel completely comfortable to be who I am, where I am."
He feels fortunate to have had positive experiences in his professional and personal life when it comes to sharing his orientation.
When he first came out as gay, his best friend playfully replied, "It's about time." Initially, he was concerned about telling his family. "But, they have all been completely open about it. It was not a big thing and they were supportive from the instant that it happened." His grandparents said, "It's fine. Just be happy."
While his family was supportive, they worried about how he might be treated by other people who were homophobic. He wishes more people had positive coming out experiences like his. "But, unfortunately, the world is not like that."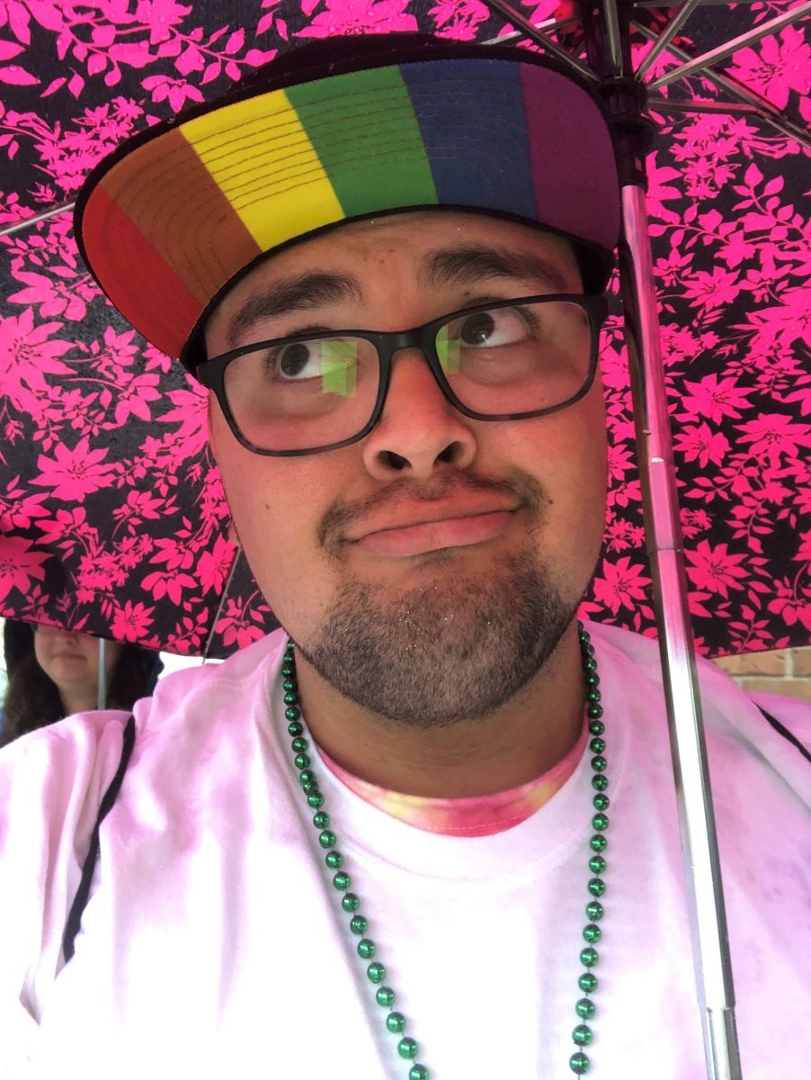 Participating in the Saskatoon Pride Parade is something that Jesse tries to do every year. "I feel like it's important, being part of the LGBT+ community, to not only show my pride and that I'm happy to be part of the community itself, but also because it shows support for those who might be struggling in the community," he said. "I've been lucky enough that my experiences have been almost nothing but positive. But, I do know that there are lots of people in the community who struggle, and they struggle a lot."
While he is sad that the typical in-person parade will not happen this year due to the pandemic, he is excited about the virtual Pride Festivals that are popping up. "I do think that Pride is going to be positive this year. I think there might still be some isolation, but, like everyone else, we're just trying to do the best we can with the pandemic situation."
Jesse also tries to be an active LGBTQ2IA+ community member throughout the year. He is a member of an online community aimed at queer people that is about "nerding out in video games." He said the games are fun, but the group is more about supporting others. He noted that having a community of people with similar experiences helps others to "feel more comfortable and it gives them a space to talk freely, share their minds and opinions without fear of resentment."
He also curls in a curling league that is part of Gay Curling Canada. "It's a thing apparently," he joked. "It gives us a place where we all have that similarity and connection."
Between all of our staff and the thousands of scientists from around the world who use our facility every year, we are privileged to work with a diverse group of people at the Canadian Light Source. As a national research facility that values respect, integrity, equity and balance in the workplace, and public accountability, we stand unequivocally for human rights.
For more information, contact:
Victoria Schramm
Communications Coordinator
Canadian Light Source
306-657-3516
victoria.schramm@lightsource.ca
Article originally published on https://www.lightsource.ca/.