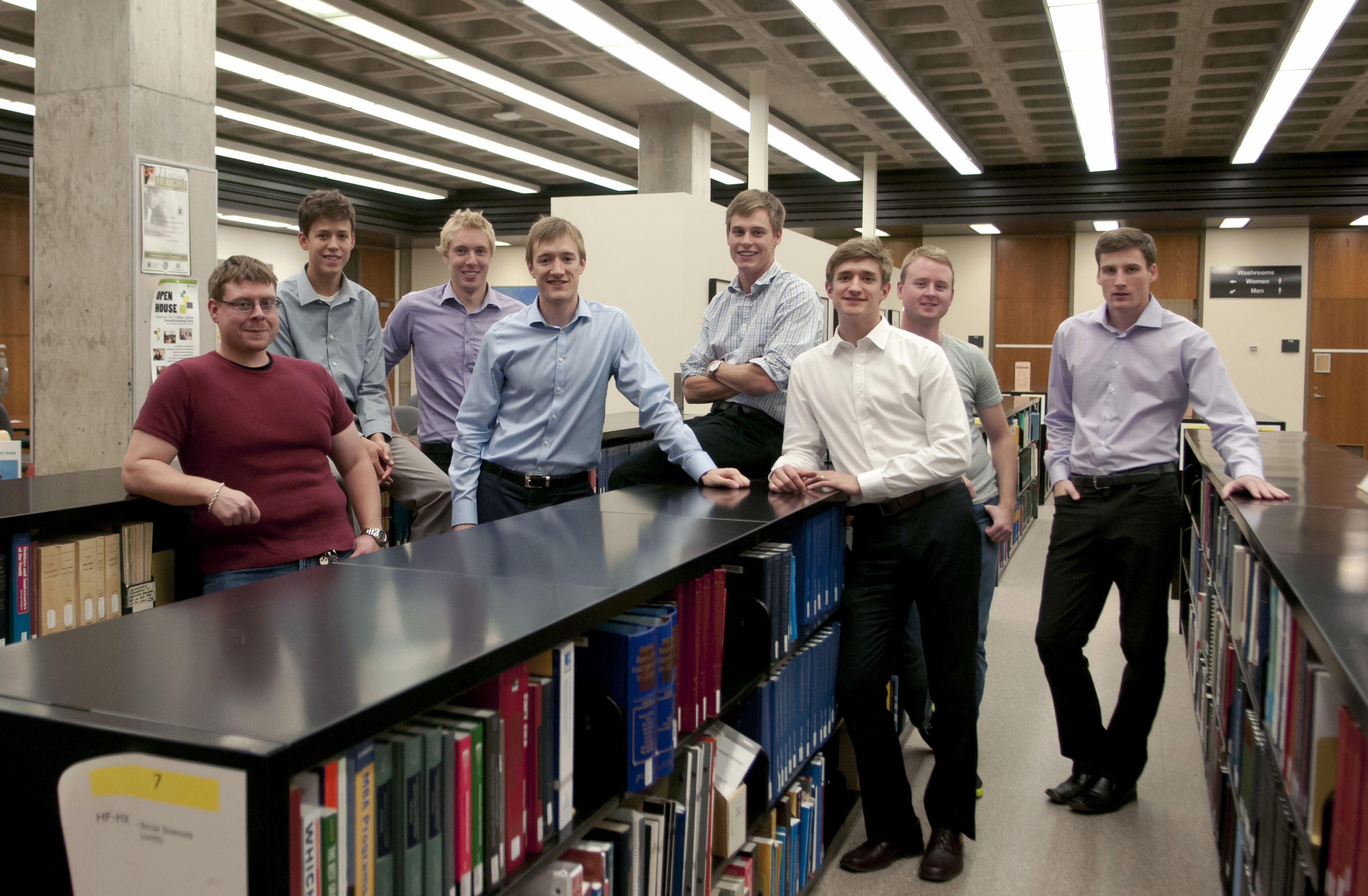 Pictured above (l-r): Christopher Graham (BSc'09), Alyosha Boldt (BSC'12), Iain McMaster (BE'12), Joshua Simair (BComm'09), Iain McCormick (BSKI'08, BEd'10), Christopher Simair (BSc'09), Andrew Tremblay (BSc'08), Lincoln Crooks (BComm'12) Photo by Raisa Pezderic, The Sheaf
What if, by the same magic that makes Santa's sleigh take flight, you could have someone else do some of the work for you?
It's not magic, it's a new service called Skip the Dishes.

Founded by Joshua Simair (BComm'10) and a group of fellow University of Saskatchewan alumni, Skip the Dishes is an online service that lists a variety of local restaurants from which you can order food for takeout or delivery.

"The concept has been around a long time. There are Yellow Pages or a stack of outdated takeout flyers stuffed in a drawer," said Simair. Using modern technology, Skip the Dishes "links everything together" and puts all the information on your computer or mobile device at no extra cost for the consumer. Technology can allow you to search for information, but Skip the Dishes is different. Simair pointed out, "It's all in one place. All you have to do is browse and order." No more searching for individual online menus or hours of operation and contact information buried somewhere on a website.

Simair saw the need for a service like Skip the Dishes while working as an investment banker for one of Canada's big banks. "We would be ordering from restaurants up to four times a day. I started seeing some restaurants and websites that would offer online ordering, which had a ton of potential. My brothers are both software engineers, and we thought there was a big opportunity for this in the prairies."

In June, Simair left his job as a banker to focus full-time on the start-up. "The U of S produces a very enterprising group of alumni. There is still that pioneering spirit that's alive and well at the U of S. We know we don't have to follow a 'set path.' We know we can build things from the ground up."

The U of S alumni that make-up Skip the Dishes—which includes accountants, lawyers and software engineers—have the professional expertise to make it a viable business and keep costs down. "The U of S provides such a cross-discipline [of education and training] we didn't have to look far to get the skills we needed to push the technology to world-class standards," said Simair.

Since the company's official launch in September, they have expanded to Alberta and Manitoba and added over 100 restaurants, including 40 on a recent trip to Winnipeg. "We thought it would be harder to get restaurants on-board, but the smaller local restaurants don't have the expertise or capacity to do this on their own. We're letting everyone focus on what they're good at," explained Simair. "We're terrible cooks, but great at IT." Restaurants are able to focus on the food and have a low cost way to cater to their customers' needs.

On top of the original partners, the company now employs a handful of employees. And they are finding friends in those that were once foes. As former Huskie track athletes, Simair and some of his partners are now working alongside their former competitors. "We used to compete against some of these people, so we know how hard they worked to get to where they did in athletics. We were able to pick out some very talented people for our team," said Simair.

Customers are getting used to the idea of having all the information they need in one place. "We are seeing a lot of orders from organizations or worksites. It's more convenient, and they can just keep working." Late night orders are a growing part of the business too, according to Simair.

So make some time for yourself this holiday season—sit back and watch a movie or the game, go skating with the kids, or have some "me" time. All you have to do is Skip the Dishes.