But thanks to donor support, on May 6
th
, 2015, Sommer joined 71 other high school students from northern communities, for a three-day conference in Saskatoon.
Arranged by the Northern Administration Students' Association (NASA), a university-student run volunteer group, the conference was aimed at highlighting post-secondary education options for students currently ranked at the top of their class.
Hand selected by their teachers for their commitment to their studies and community involvement, these students were given all-expenses-paid opportunities to experience life as a university student in Saskatoon.
Student representatives from across the U of S toured the students around campus and spoke to them about program offerings, career options and demonstrated how the application process works.
For many of these students, the conference marked their first time on a university campus, and for others it was their first time in a city as big as Saskatoon. Attending university away from home is overwhelming for anyone, but for these students who are often isolated by their geography as well as social and cultural differences, it can be even more daunting.
Jacinta Classen, President of NASA knows the struggles and adversity these northern students face, only too well. Raised in Uranium City, she found solace in the NASA community when she arrived in Saskatoon for her first year of university.
"We wanted to communicate the possibilities available to these individuals and empower these youth to challenge their perceptions of post-secondary education, " Jacinta says.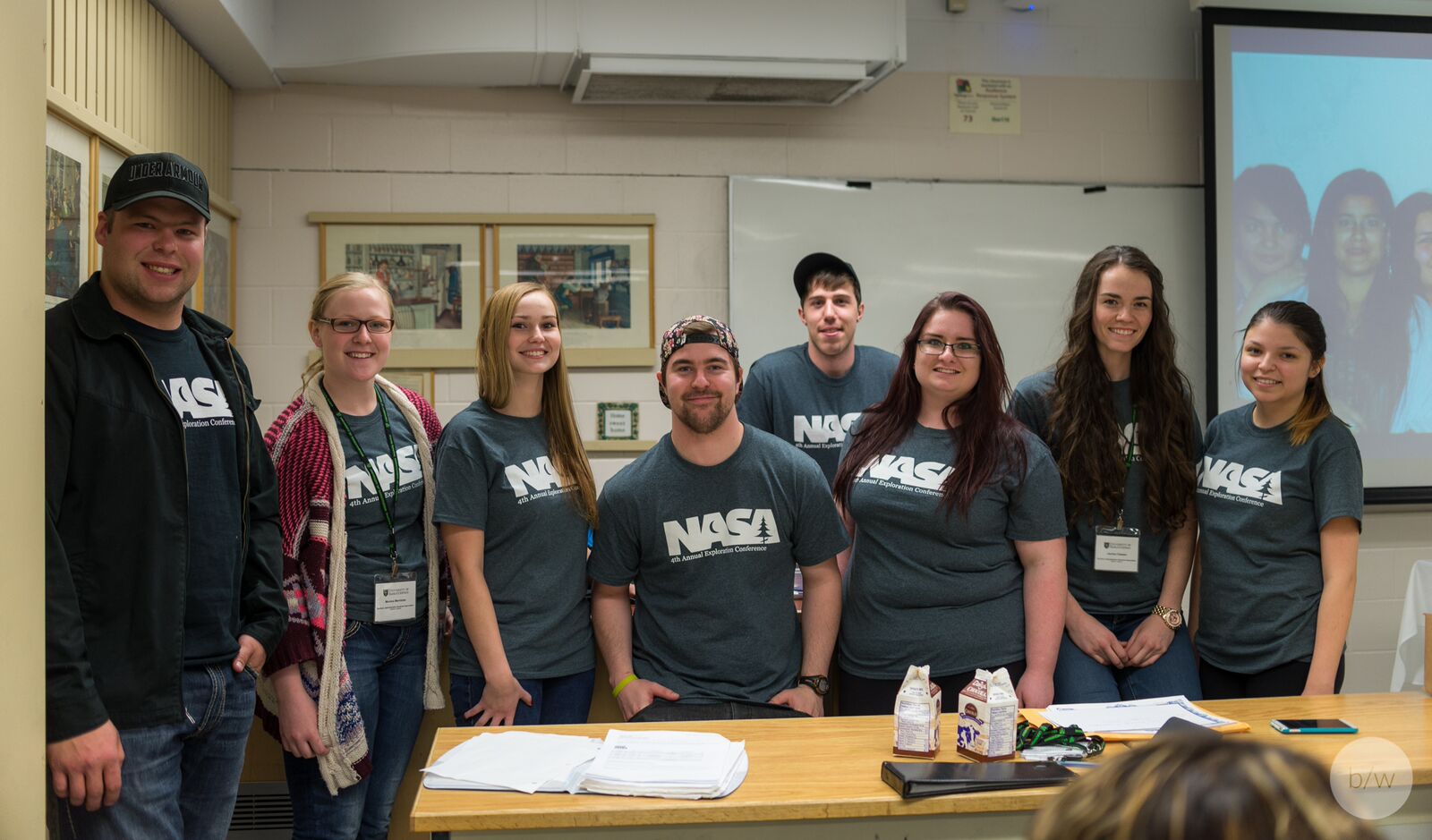 NASA's hope was that the conference would also serve as a social outlet for these students, and they scheduled a dance and various outings throughout Saskatoon to encourage the youth to engage with their peers and get their bearings in the city.
"Our hope with this conference is to lessen the culture shock and help these students make informed decisions that could change their lives," she adds. "I noticed that students were engaged and actively participating in the tours and career fair, which to me feels like a success."
For students like Sommer, they really took away from the conference what Jacinta and the rest of the committee hoped they would.   Says Sommer, "I really loved this conference. It seemed that everyone at the U of S is really happy to be here and I am excited to come to university." When asked if she had considered post-secondary prior to attending the conference, Sommer responded, "Yes, but I thought I would go into nursing." She notes specifically, a newfound interest in geology. "I didn't realize how much more there is to study here and now I'm starting to change my mind."
NASA received funding from the 
President's Student Experience Fund
, as a result of donations made to the One Day for Students campaign, which took place on March 20
th
.
In just one day of giving, a total of 302 donors contributed $27,696 to this fund, which works directly in support of students.  Combined with an additional donation from Professor Emeritus Kay Nasser and his family, who contributed a total of $30,000 to the campaign, One Day for Students brought in a grand total of $57,696 to help support and enhance the student experience at the U of S.
Thanks to the generous and unwavering support of our campus community, Jacinta and her team were able to put $5000 towards empowering youth like Sommer to see the benefit in post-secondary education and make a difference in their lives.