The Kloppenburg award, established in 2010, acknowledges a Saskatchewan writer who has written a substantial body of literary work. As I have travelled over 6,000 kilometres from Ireland to do my Master of Fine Arts in Writing at the University of Saskatchewan, I won in regards to mileage covered.
I met Henry (BA'65, JD'68) and Cheryl Kloppenburg (BA'70, ARTS,71, JD'75, MA'75), a few days before the awards ceremony to learn a little bit about them and find out the reason behind the Kloppenburg Award. We met for lunch at the Somewhere Else Pub and Grill. Henry recommended I try the steak sandwich, which I did, and when the food arrived he said grace in Latin, a tradition he said from his time in Oxford University, UK where he was a Rhodes Scholar at Exeter College.
Over lunch I learnt about the Kloppenburgs' life and their over 80 years in law practice between them in Saskatoon. Henry talked fondly of growing up in Humboldt, SK, and spoke proudly about the Kloppenburg Wildlife Refuge near Humboldt that was established in 1996 with 160 acres of land to protect the natural wildlife in the area, which has never been broken for agriculture. It's there visitors can go to enjoy bird watching, take in the beauty of wildflowers and relax in the peaceful surroundings.
Cheryl Kloppenburg, like her husband is a tremendously accomplished lawyer, having completed her entire post-secondary education at the University of Saskatchewan and also has the same passion in supporting the community and promoting the arts.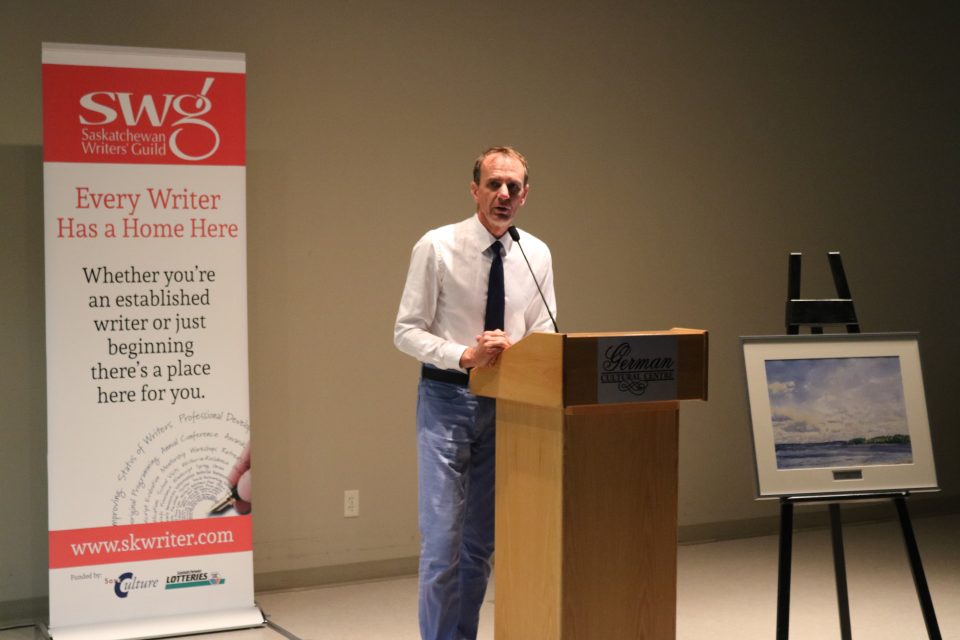 We continued chatting around coffee. Cheryl and Henry talked in great detail about art and giving back to the community of Saskatoon and the province of Saskatchewan. They told me about the scholarships and prizes that they have set up at High Schools, Humboldt College Institute and at the University of Saskatchewan. The were keen for me to have a look at their 55-piece Inuit art collection that they collected for over 40 years and donated to the College of Agriculture and Bioresources at the University of Saskatchewan in 2011.
They spoke passionately about the annual Kloppenburg Award for Literary Excellence that Henry told me was set up to celebrate the long, proud history the province of Saskatchewan has in producing renowned writers that have made a significant contribution to Canadian literature. They wanted to recognise the achievements of a Saskatchewan writer who has written a substantial body of literary work and so the Cheryl and Henry Kloppenburg Award for Literary Excellence was established.
With a lovely lunch and an entertaining chat over we said our goodbyes, looking forward to meeting again at the awards ceremony.
This year the 8th annual Cheryl and Henry Kloppenburg Award for Literary Excellence took place at a luncheon on September 19th at the German Cultural Centre, 160, Cartwright St. East, Saskatoon. If I thought I left the rain behind in Ireland I was sadly mistaken. The day was muggy and wet, just like home. But the weather did little to dampen our spirits as everyone hurried excitedly in and took their seats. There was a great buzz in the air as local dignitaries, writers and guests mingled. I spotted the novelist Yann Martel in the crowd who won last year's award. Previous winners of the award included the novelist, poet and short story writer David Carpenter in 2015, novelist Sandra Birdsell in 2014, novelist, dramatist and short story writer, Diane Warren in 2013, novelist Sharon Butala in 2012, poet Lorna Crozier in 2011 and novelist and short story writer, Guy Vanderhaeghe in 2010.
This year it was proudly hosted by The Saskatchewan Writers' Guild, and emceed by its president Jack Walton. He welcomed everyone to the event, acknowledging the generosity and support of Cheryl and Henry to the province of Saskatchewan. He talked about the rich literary heritage of the province and how important it was to have an award recognising the achievements of its writers. The three Honorary Patrons of the Award, Her Honour the Honourable Vaughn Solomon Schofield, Lieutenant Governor of Saskatchewan, Dr. Peter Stoicheff, President of the University of Saskatchewan and Charlie Clark the Mayor of Saskatoon each gave a short speech mentioning the importance of the award and congratulated the winner careful not to let it slip who the winner was.
Then Cheryl and Henry presented the award of $10,000, and a framed print from the highly respected Saskatchewan artist Dorothy Knowles to the 2017 winner of the Cheryl and Henry Kloppenburg Literary Award of Excellence, the prairie naturalist, illustrator, activist, and non-fiction writer — the esteemed Trevor Herriot.
Trevor graciously accepted the award saying how wonderful it was to be recognised for his writing locally and how much it meant to be listed amongst such distinguished writers. He talked passionately about the importance of preserving and protecting Canadian grasslands for future generations. Then in appreciation for Cheryl and Henry's contribution in promoting the arts he gave them an illustration of his, a Mountain Plover whose population is in decline and some honey, from his home in Regina which he shares with his wife Karen and their four children.
Not wanting the guests to feel left out, Cheryl made sure everyone got a little gift too of a print of Dorothy Knowles's art to take home with them. When lunch was over, Trevor Herriot read from his book, Islands of Grass which comes out on November 1st later this year. The book is accompanied by acclaimed photographer Branimir Gjetvaj's extraordinary photographs. The audience listened to Trevor read about the prairie grasslands that are rapidly disappearing and of the Great Northern Plain that stretched across the continent abundant with wildlife, and with herds of bison. numbering in the millions. Sadly, today, all this is rapidly disappearing and in some areas there are only small unique islands of untouched prairie grassland left.
Jack Walton closed proceedings to the Cheryl and Henry Kloppenburg Award for Literary Excellence 2017 thanking everyone for coming and wished everyone well.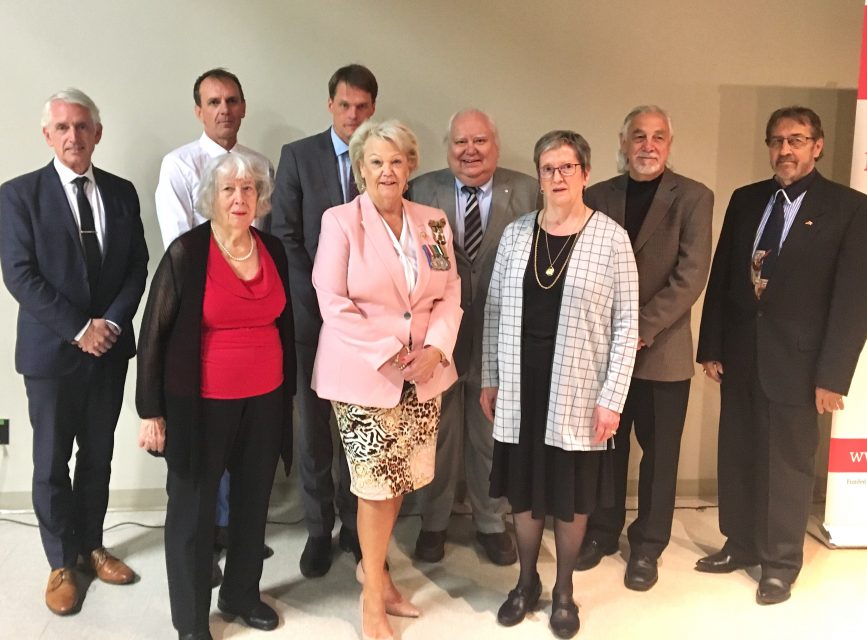 After saying goodbye to Cheryl and Henry, and briefly chatting with Trevor Herriot, I made my way to the Murray Library, on Saskatchewan University campus. I was keen to discover for myself Trevor Herriot's work. What I found was beautiful, lyrically rich language within the pages of his books. I discovered a writer who has a deep love and respect for the grasslands in a world where we think more about expansion rather than seeing what we can preserve and keep intact for future generations. The library is well stocked with all five of his books with Towards a Prairie Atonement, published in October 2016 being his most recent to date. Apart from his books and his regular guest spot on CBC Radio Saskatchewan's Blue Sky, Trevor has a blog, Grass Notes (trevorherriot.blogspot.com). He started blogging in 2009 as a way to further educate and inform his readers and listeners.
I have yet to check out Cheryl and Henry's donated collection of art in the College of Agriculture and Bioresources at the University of Saskatchewan but when I get the chance I'll definitely have a look at their permanent collection.
Going to the Kloppenburg Award for Literary Excellence was a great experience for me. Not only did I met Cheryl and Henry Kloppenburg who are exceptionally warm and friendly but I got to talk writers like Trevor Herriot who is creative and sincere. I got to witness firsthand the creative vibrancy of Saskatoon and the province of Saskatchewan. I could feel the willingness from Cheryl, Henry and Trevor to preserve art and land for generations to come. Such ideals should be promoted and celebrated no matter where we live.