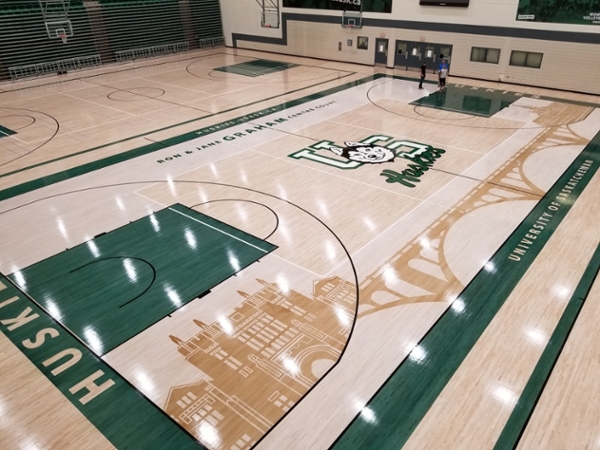 The new gymnasium floor at the Physical Activity Centre (PAC), has a new look thanks to the university's most generous donors.
On September 20, 2018, athletes, students, community leaders, University of Saskatchewan faculty and staff all gathered to show their gratitude for two very special people, Ron and Jane Graham.
To date, the couple have given nearly $22 million to the University of Saskatchewan across a number of academic and athletic initiatives, to support the university and its students. The Graham's latest gift was $2 million to fund the Ron and Jane Graham Sport Science and Health Centre to support Huskie athletes. This is in addition to their $4 million donation towards two basketball courts and team rooms in Merlis Belsher Place, where the new centre will be located.
In recognition of their cumulative giving, the gymnasium floor at the PAC got a face-lift, emblazoned with the dedication, "Ron & Jane Graham Centre Court". The newly stained court includes illustrations of the Delta Bessborough hotel, the Thorvaldson building, and a bridge between them, to symbolize how Ron and Jane Graham have made a positive impact on both the University of Saskatchewan and the city of Saskatoon.
The new court imagery was designed by the university's own Brian Kachur, a graphic designer in the marketing department. The process of installing the look of the court was lengthy, using different treatments including paint, wood stain and bleaching to get just the right look.  "It took almost three weeks to redo the court. Matching the staining with our university pantone colours was interesting, as the colours absorbed differently with the wood grain. It was an incredibly fun project, and really amazing to see come to fruition," Kachur noted, who worked with an outside team to produce the final product.
President Peter Stoicheff addressed Ron and Jane Graham, both alumni who travelled to Saskatoon from their home in the United States to attend the event, "The many ways in which you continue to give back to the University of Saskatchewan are always so meaningful and humbling. Your enthusiasm and support for our university brings out the best in all of us."
Emmanuel Akintunde, a third-year Arts and Science student and Huskie basketball player, spoke about his experience as a scholarship recipient, which was funded by the Grahams. "My elite student-athlete experience would not be possible without Ron and Jane's commitment to the university and Huskie Athletics," he said at the ceremony. "My teammates and I are always determined to compete hard and to represent our school and our community, but now we will also have the added privilege of competing on a court that pays tribute to Ron and Jane and for the investment they have made in our lives."
Steven Martyniuk, a medicine student who benefitted from the Grahams' support, also spoke at the event about the impact the couple has had on students. A graduate of the same high school Ron attended as a teen, Martyniuk commented that receiving the Ron and Jane Graham undergraduate student award set him up for educational success. "The scholarship was initially a one-time award, but seven years of university later and the Grahams have continued to fund my tuition," he stated. "Not only have they supported the financial aspects of attending university, but they have also gone out of their way to enhance my academic experiences."
Speaking to the large crowd of university and community members, Ron and Jane Graham were emotional in appreciation for the gesture. Jane noted, "This is a big deal!" She added, "It's been incredible and rewarding to partner with the university, its staff, and its students, and cheer on our athletes. We love to follow their success after graduation."