The Home Ice Campaign had, in my opinion, the perfect slogan. I had no doubt that "A New Home For Hockey," was needed here at the University of Saskatchewan (U of S). Rutherford Rink no longer befits the Huskies women's and men's hockey programs. I should know, I played in the Dog House for almost six seasons, but definitely not as a Huskie.
After a 12-year hiatus from the game of hockey (a fact I kept to myself until assured a spot on the team), I had my "first" game with Engineering of the Faculty/Staff Hockey League (FSHL) in October 2011. Founded in 1976, the FSHL is a league comprised of individuals from all over the U of S. The eight teams (Administration, Canadian Light Source, Electrical, Engineering, Kinesiology, Maintenance, Soil Science, and Veterinary Medicine) hit the ice (to very, very little fanfare) late Thursday evenings and early Saturday morning from October to March. 
As found on the FSHL website, the league is a non-contact, no slapshots, recreational league for any individual over 30 years of age who is currently employed at the U of S. While age and employment status are often the topics of much discussion in the dressing room after a tough loss, the most important eligibility requirement, that is, "no minimum skill level is required," often gets overlooked when licking one's wounds in the Dog House. Rutherford Rink, built in 1929, now well below the standard of quality required for a competitive university athletic program, was beyond repair. Considering the former and the latter together, Rutherford Rink, in all its dilapidated glory, did befit the FSHL. Let me explain.
Many of the challenges associated with the out-dated Rutherford Rink are a matter of perspective. Taking into consideration that the experience of FSHL hockey players (read: beer league hockey players) differs slightly from that of Huskies hockey players (read: elite university athletes), I would be remiss not to point out some the opportunities that Rutherford provided the FSHL.
Maybe you've experienced this while watching a Huskies game: a puck hits the rafters of Rutherford Rink, and the ice is strewn with material that has been sitting up there for who know how many years. Sure, the delay in the game, while the who-knows-what-that-is is scraped off the ice, is disruptive to the flow of a Huskies hockey game. From the FSHL perspective, although we would never admit it out loud, we all appreciate the extra few minutes for us to catch our breath; especially when our team is winning. Thank you, Rutherford.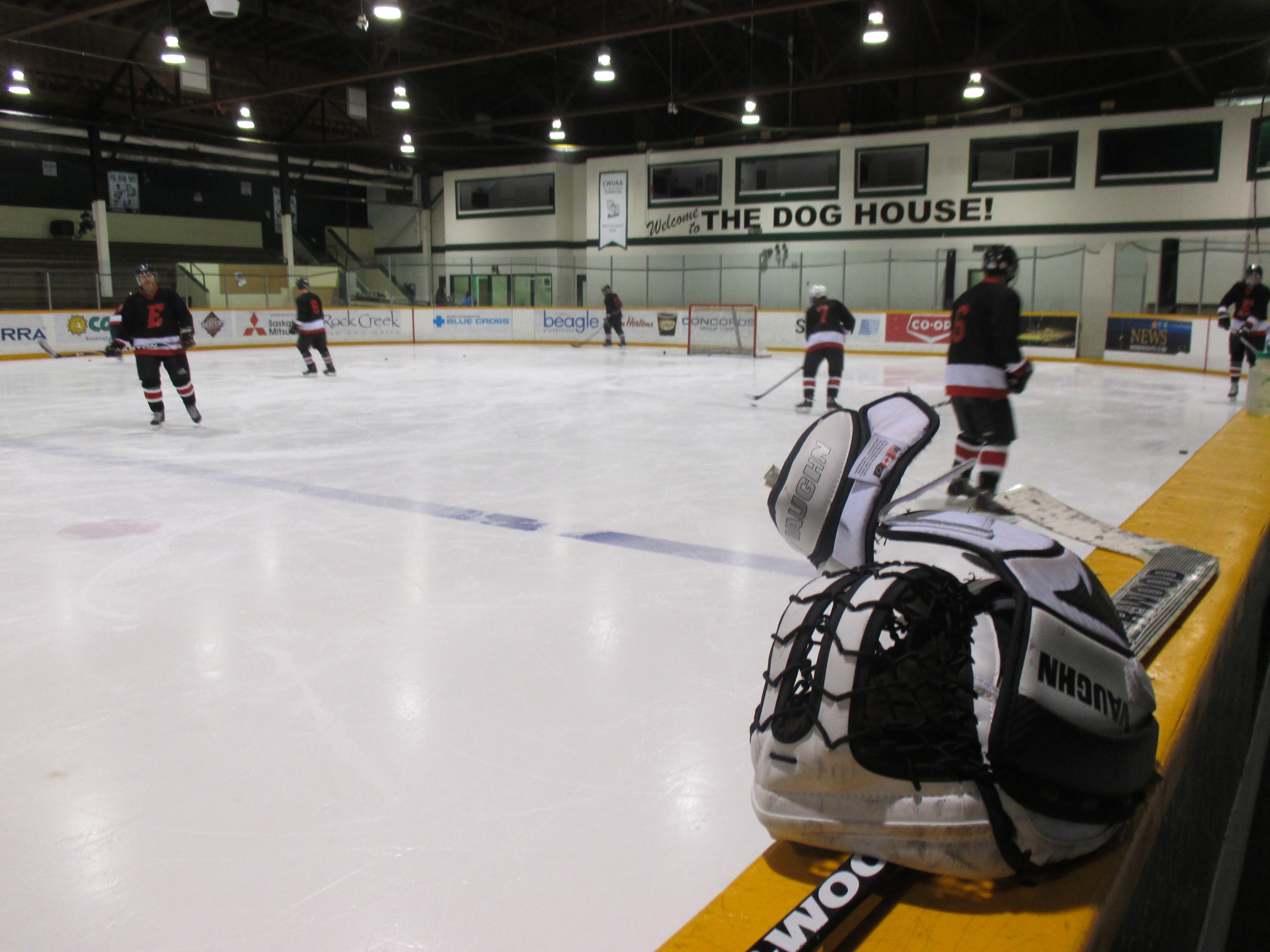 Being over 85 years old, the size of Rutherford Rink is smaller than nearly every other rink out there. Huskie hockey players will make a quick transition to the new, larger rink size. For the, let's say, not as fit FSHL players, the new rink size will be discussed in dressing rooms before and after games as an "Olympic size" ice sheet for years to come. I can hear it now. Showing its age, Rutherford also has players' benches on opposite sides of the ice. The new facility, I'm fairly certain, will have both benches on the same side of the ice, which could make for some interesting moments if the FSHL referees can no longer separate players by skating them to opposite sides of the ice to cool down after heated exchanges.
Consider the main entrance to Rutherford Rink. I'll be honest, the low foot-traffic, dimly lit, single-wide door that sits on a nondescript section of the campus ring road is the perfect entrance for any hockey team looking to wheel in a cooler full of ice-cold drinks after the game. Thank you, Rutherford. The entrance way of the new facility will be different, which means FSHL players will need to rethink how to mule drinks into the new rink with its grand, well-lit entrance.
It's the little things at Rutherford that, to an FSHL player, gave it its charm. Players shoot the puck just a tad harder in warm up on those off occasions that the rink attendants left out the good nets—the ones the Huskies use—for our game. The make-shift fish-bowl dressing room right as you walk into the rink that the referees had to use to get dressed for the game. Jokes about how our inability to backcheck stems from the black lung we all contracted the year that Rutherford had to shut down for a month to deal with black mold. How, in the middle of winter, the temperature inside and outside the rink are the same. The choppy ice. The list goes on.
Don't get me wrong, I do have some fond game-based memories during my time playing at Rutherford. Scoring my first ever goal in Rutherford on a goalie who, a scant few years later, would become my department head ranks high on my list (and, yes, I do make sure to remind Dr. Wilson about that goal on a monthly basis). Having a zero-zero, mid-season tie ruin what would have otherwise been a perfect season for Team Engineering also ranks high on my list; our end-of-season record of 0 wins, 28 losses, and 1 tie (so close to perfection!) still bothers me to this day.
As an FSHL player, I realize that most of my memories are rooted in Rutherford Rink. Take opening night of the 2016/2017 FSHL season, for example. Sure, everyone was a tad disappointed to learn that the game was cancelled because the roof had been leaking and there was a gaping, unskateable hole at centre ice. As we all sat in a nearby pub eating chicken wings and catching up on each other's lives, not a single person complained that our season would start one week later than scheduled. Thank you, Rutherford.
I'm not in denial; I know that it's time to move on to another facility. The new Merlis Belsher Place multi-sport complex is opening next week. Before we begin to forge new memories in Anotherford, though, we should also take some time to remember Rutherford. For the other players of the FSHL, and especially for me, it will take some time to get used to new home ice.
Egan Chernoff is an associate professor in curriculum studies in the College of Education.