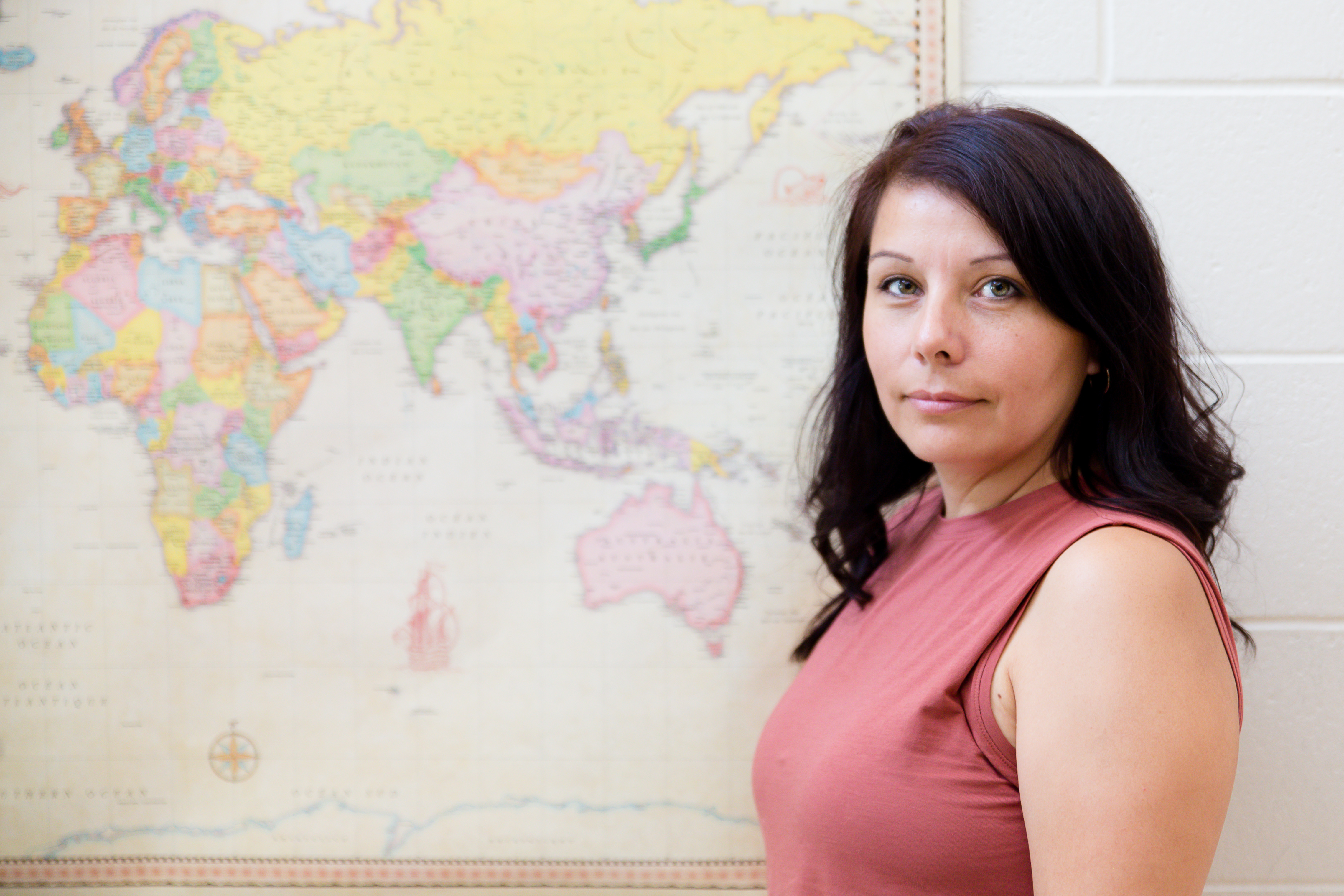 Nola Halabiski is currently teaching in a grade eight classroom as part of her final year in the Saskatchewan Urban Native Teacher Education Program (SUNTEP). Halabiski hopes that she can teach her students more than just what is on the syllabus. She strives to teach her students compassion, acceptance of themselves, and that they have capabilities to do something great.
Last year, Halabiski was the recipient of the Centennial Fund Award, an award that is the result of alumni donations to Campaign for Students. The award has had a tremendous impact on Halabiski, allowing her to make purchases she would not otherwise be able to make. "I wanted to buy a new, reliable vehicle before I started school. I did not want to worry about break downs and ensure I would always be able to get to school," she noted.
The financial burden was lifted in part thanks to the scholarships she was awarded. But the support Halabiski received from scholarships had an even more personal impact on her. "In my second year, I got sick with Lyme disease. At the same time, my mother had a stroke and was admitted to Royal University Hospital.  She had to attend therapy, which required a family member to be with her constantly." Nola said she was the only family member that could help her, but being a student located in Prince Albert made it challenging. "I spent about three weeks making the trip to Saskatoon each weekend to support my mother. It was because of donors that I was able to be there for her."
Halabiski explained that this was a tough time for her. Not only was she sick, balancing school, and caring for her mother, but she was also dealing with expenses she wasn't prepared for, while also caring for her three children as a single mother. "Although it was a horrible situation, it turned out okay because when I visited her, I could work on my papers and assignments in peace alongside her, which was nice."
Halabiski found the silver lining to a horrible situation, using the visits with her mom to diligently work at her studies. Without the support of donors, she may not have been able to support her mother the way she did. "Whenever I received an award, I always put it straight in the bank for emergencies, like that one. This support allowed me the financial freedom to help.."
After high school, Halabiski pursued an office education and got a job as a secretary at a Prince Albert high school, but felt a longing for wanting to do more for the students. She explained that as a secretary, there is a limit to the jobs you have. "The students that I would see in the office were usually the 'bad kids' or the ones that were in trouble; you do not see the ones that are excelling in the classroom. I was not bummed that I only saw the negative. I was bummed with what little I could do for them." Halabiski was frustrated with the little support she could offer these students. She was not a counsellor or a teacher, just a nice person that could offer a band-aid or help call their mothers. "I wanted to be able to offer these students more, to have a bigger impact on their life."
While working as a secretary, Halabiski realized that many of the teachers were older Metis or Indigenous women who got their education degree after their children were grown up. Inspired, Halabiski thought, 'why not me?', and decided she might as well try it. "I had always wanted to go to school, but it was something that I never thought I was capable of or an option for me. I decided to take the chance and apply, and it has been the best choice of my life."
As a natural caregiver, it makes perfect sense that Halabiski is on her way to becoming a teacher. She wants to work in a high school like the one where she was previously a secretary. She believes that she can make the biggest mark on teenage students as that is who she relates most. "I feel I would be able to give to that community of students struggling who are trying to figure out the world and fit in because that is where I struggled most as a student. Teachers can offer so much to students. You can coach and guide them, and becoming their voice of reason. You can help guide them to be the best that they can be." Halabiski said that the SUNTEP program is perfect for her, helping her realize her dreams of helping students at a much more impactful level.
Without donor support, Halabiski would not be able to fulfill these dreams, and as such understands firsthand the importance of giving back. "It is important to give back because somebody is always going to need it. Giving back is why I want to be a high school teacher. I understand the importance of giving back, even more now, because I see the impact it has on people on all levels. I want students to know they are all capable of the same opportunities."
Halabiski recognized that even words of encouragement can make a world of difference on individuals. "When you are down in university it is so important to have someone to support you and bring your sunshine level back up," Halabiski explained. Halabiski plans to make her mark in this way, by offering knowledge and guidance to students who need it and demonstrating how to be a positive person. "There are enough negatives in the world, so something as simple as being polite or offering your service to someone in need makes such a difference."
That is something important in her teachings. She wants each student not to be ashamed of themselves and knows that they are capable of anything, regardless of who they are or where they come from. They are all capable of making a mark, whether it is big or small. "You can learn anything from a book, but it is important to demonstrate compassion and acceptance to young students."
Halabiski offered her most sincere thank you to all of the university's donors that make a mark on students' lives, like the donors to the Centennial Fund Award. "If I ever get to the point where I can give back I will, because I know how much of an impact it has. I may not be able to give back a lot, but I will give back."
The University of Saskatchewan's Campaign for Students raises money to support student scholarships and bursaries. Last year, the campaign raised over $1.9M for USask students and allowed them to excel in their pursuits. To make a gift to the campaign, or to learn more about how your support makes a difference, please visit give.usask.ca/students. Your donation opens up a world of possibilities and helps students make their mark on the world.