Pamela Goulden-McLeod (BA'95) would prefer to stay out of the spotlight.
When she appears in newspapers and on television, it usually means something has gone wrong. Badly wrong.
She has appeared in newspapers and on television a lot this year.
Goulden-McLeod, 50, is the City of Saskatoon's director of emergency management. Her job involves planning for and responding to disasters — blizzards, bomb threats and everything in between.
"We spend 95 per cent of our time writing plans, hoping we'll never have to use that plan," she says in an interview with the Saskatoon StarPhoenix. "But also knowing if you don't have a plan, it's going to be far more difficult."
Since taking over the role two years ago, she has helped co-ordinate the response to several major incidents, including a fiery train derailment north of the city and a windstorm powerful enough to tear the roof off a large building.
None of that comes close in scope or scale to what she described as "without a doubt" the most difficult and challenging problem of her career — the arrival in Saskatchewan of COVID-19.
In early March, Goulden-McLeod was forced out of the Emergency Management Organization's (EMO) utilitarian office in Fire Station No. 9 and into the bright lights of the cameras as the city ramped up its response to the virus.
Pandemic planning is part of every EMO's job, but Goulden-McLeod admits it came as something of a shock when the National Hockey League cancelled its season and the province closed down its schools.
"We do a lot of exercises, tabletop exercises and full-scale exercises (to prepare for disasters)," she says.
"But I think if any emergency manager had ever suggested we do an exercise that looks like COVID, everyone would have said, 'That's unrealistic, that's a black swan event, that's never going to happen.' And yet here we are."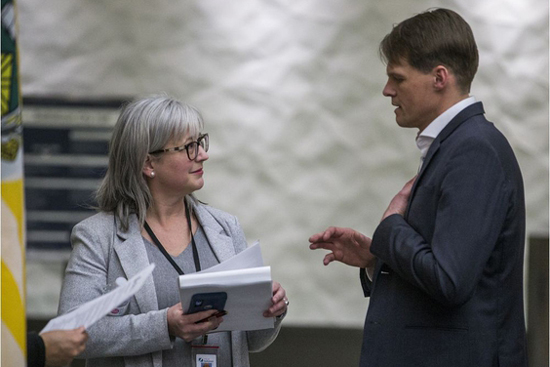 Despite spending her days deep in planning for every conceivable worst-case scenario, Goulden-McLeod did not grow up fascinated with catastrophes and calamities. Her current job is one she never expected to have.
After abandoning her initial idea of working as a journalist, she earned a bachelor's degree from the University of Saskatchewan before going on to study social work at the University of Regina.
She attributes the decision to her upbringing in Yorkton, where her family always emphasized making the community better. Her mother still serves on Yorkton city council; her brother is a city manager in Alberta; her sister works in education.
"It's always been about giving back to our community for us," she says.
Goulden-McLeod started working as a school social worker with Saskatoon's public school division in 1997 on a contractual basis, and joined the division full-time in 1999.
While she worked in numerous schools during her almost two-decade career with the school division, Goulden-McLeod loved spending time in the historic schools in core neighbourhoods most of all.
"You know that moment where you just realize, 'I'm in the right place'? When I was at Princess (Alexandra Community School), I realized I was in the right place. It felt good. It felt like home."
Ray Unrau, whom Goulden-McLeod described as a mentor, said her background in social work adds another dimension to a position frequently occupied by former first responders.
"She's well-versed in the humanities, and the impacts of things on people," said Unrau, who left the job Goulden-McLeod now holds for what is now called the Saskatchewan Public Safety Agency in 2018.
"One thing that she came completely ready to go with is her empathy, her ability to look at people in those emergency situations, put a hand on the shoulder and say, 'Hey, are you doing okay?' "
"Her approach in that aspect has been world-class from day one," he added.
That day one came in 2012, when Goulden-McLeod took a new role in the school division called the safe caring accepting schools consultant, a part of which included emergency management and business continuity.
"I really enjoyed the proactive part of that after being a social worker for so long, where you're just reacting to different events," she says of the experience, which included dealing with deaths and the 2016 La Loche school shooting.
"Being able to develop plans, develop processes, improve processes. Really, emergency management is about bringing diverse organizations together to solve a situation."
Around the start of 2018, that interest led her to apply for the position Unrau held with the city. Goulden-McLeod says it's a job she really didn't plan to seek, and one she certainly didn't expect to receive.
"I would have worked with the school division for another 20 years, absolutely loved working there," she says.
"It was one of those things where I'd never planned on changing jobs, but this position came up and it made me realize how much I enjoyed working in emergency management and business continuity."
Read the full article at https://thestarphoenix.com.