Editor's note: This article was written earlier this year but was not published due to the COVID-19 pandemic, which has impacted many aspects of daily life in communities and countries around the world. Here in Saskatchewan, people working in the food and beverage industry were among those deeply affected by the health crisis, as restaurants and pubs closed their doors to the public while people sheltered in place.
This week, as part of the Phase 3 guidelines outlined in the Reopen Saskatchewan plan, bars and restaurants can welcome patrons once again. However, things are a little different now than they were pre-coronavirus; for example, eateries and licensed establishments can only operate at 50-per-cent capacity.
Still, being able to go out for a pint or a bite to eat marks a significant step in Saskatchewan's multi-phased reopening plan. In recognition of that, we have decided to publish this article about some of our alumni who are entrepreneurs in Saskatoon's food and beverage sector. Enjoy!
---
Multiple choice question: You meet five people in a restaurant or pub. Which one would be most likely to own it? The dentist, the engineer, the psychologist, the sociologist or the business administrator?
Answer: All of the above.
Five University of Saskatchewan (USask) graduates have plunged into the creation of food and beverages, and not one started out as a chef. Rather, all five alumni earned degrees from the College of Arts and Science, with some going on to additional studies.
While all of them had various backgrounds in hospitality—or at least the craving to engage in the industry—they nonetheless chose paths quite divergent from their educations. And yet, their educations have supported their Saskatoon-based ventures.
After all, as Plato said, knowledge is the food of the soul.
Paola Chiste (MA'99) - Beppi's Gelato
Paola Chiste began her post-secondary education with no idea what she wanted to do, but it's safe to say making gelato was the furthest thing from her mind.
She found herself drawn to psychology, which led her to apply to USask. Through the College of Arts and Science she completed a master's degree in psychology, enjoyed applied research and statistics, and became interested in post-secondary education administration.
Chiste worked as a research analyst at USask, later becoming a research manager at the International Centre for Northern Governance and Development.
When the centre closed in June 2017, Chiste began to seek something completely different. Her husband suggested she consider opening a restaurant.
"I said, 'What are you thinking? I have a master's degree in psychology,' " Chiste said in an interview. "But the more we talked about it, I thought, 'Why not? Let's try it.' I enjoy all things Italian, I love to cook and create, so it was a good fit."
Chiste identifies strongly with her Italian heritage; although born in Canada, her first language was Italian.
Being her own boss appealed to her. Bringing an Italian flavour to her new venture did, too.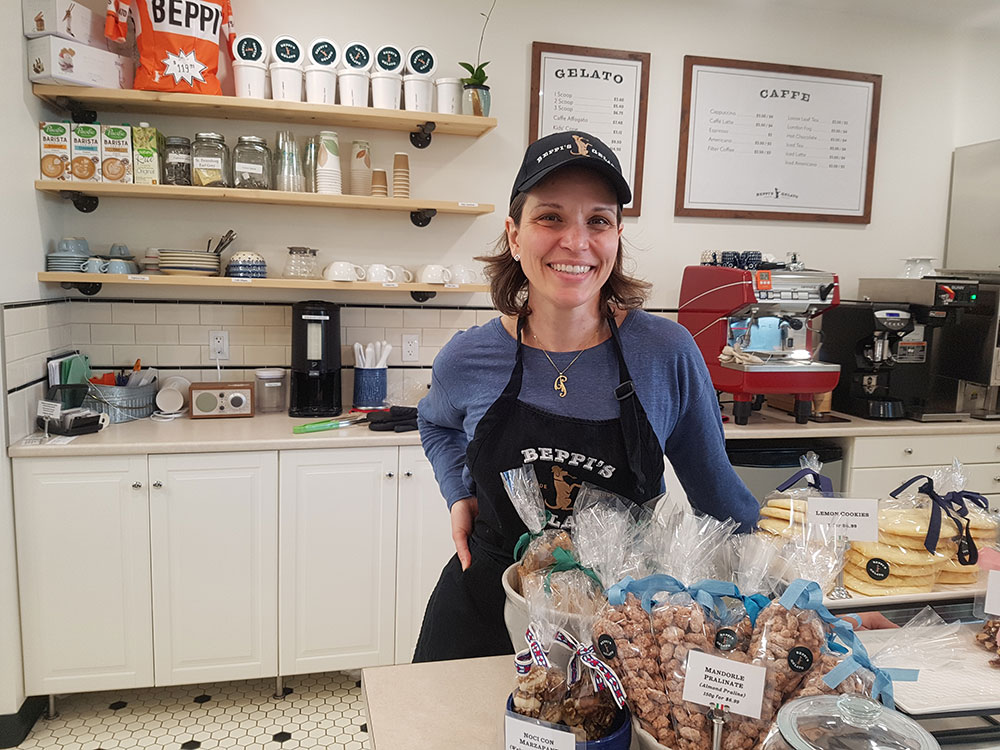 Off Chiste went to gelato university at Bologna in the fall of 2017. She learned to make the delicious stuff in the traditional way using real ingredients, not with a lot of syrups and pastes.
In early summer last year, Chiste opened Beppi's Gelato in a building she and her husband partly own. Beppi's creates gelato and dairy-free sorbetto. The flavours can change daily or even every couple of hours when it's busy.
She has since added other products, including Italian baking, gifts, olive oil, balsamic vinegar and coffee.
Always interested in people as much as math, Chiste understands how her education contributes to the operation of a food business.
"The work I did at the university prepared me immensely for this job," she said. "I have to do math to figure out (the) cost of goods, profit margins, cash flow. Projections, marketing, advertising, human resources, even writing, just being able to communicate both personally and on paper—it was an easy transition. I do think that is what the arts and science degree gets you.
"I love when people come in and we talk about a variety of different things and, again, that's the background of an arts and science degree."
Favourite gelato flavour: Big Dog, a salted caramel with chocolate chunks
Favourite food: Pasta with tomato sauce
Favourite beverage: The first cup of coffee every morning: either a dark roast or an Americano
Dr. Parviz Yazdani (BSc'95, DMD'98) - Botté Chai
Saskatoon dentist Dr. Parviz Yazdani freely admits that he opened his teahouse because he craved a comfortable place to hang out with friends and family.
"It was initially driven purely out of self-interest," he said, laughing. "I had two areas of interest outside dentistry. One was film and one was hospitality, in general.
"The film industry I was involved with in the first 10 or 12 years after graduating from dentistry. I was in international co-productions with mostly South American filmmakers. The film end of things got to a point where I had to make a choice whether to pursue it full time or not."
He saw big changes coming to film in the digital age, and it was a very unpredictable time, so he decided to part ways. His focus turned to the teahouse.
Botté Chai opened two years ago with a vertical Persian garden on one wall and a soothing water feature on another. A large botté graces the space near the counter.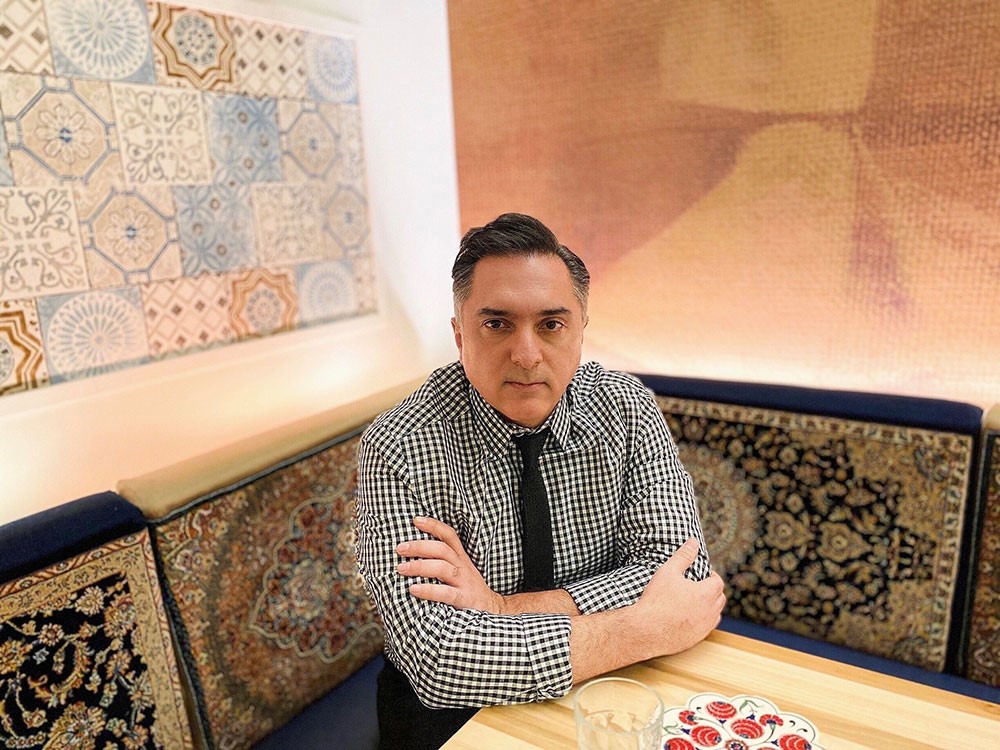 "A botté is a prominent Persian symbol, demonstrating a cedar tree—tall and strong, but bent in humility, a tree that bends in the wind but doesn't break," he said. "The shape is much like a pine cone, which many people would recognize as a paisley pattern. That's not a coincidence."
During British rule in India, the design was adopted and printed on fabrics in Scotland, in a town called Paisley. "It became the paisley design," he said. "Botté is also a play on the French phrase beau thé, which is delicious tea."
Botté focuses on teas and some coffees, as well as sweets and pastries. A Persian black tea made from six ingredients is the house blend. In addition, light fare such as soups and sandwiches, all with a Persian influence, are offered on the rotating menu. Takeout is also available.
Yazdani, who came to Canada from Iran in 1986, enjoys the community feel of the place, starting with his own family: his mother, Behshid Zehtab, is his food consultant.
"It's all about collaborating with local suppliers and producers, while collaborating with national and international sources to create foods that can't be found elsewhere in the city," he said.
Favourite food at Botté: Date and feta omelette
Favourite beverage: Persian tea blend
Favourite other food: Fresh pasta
Jessica Litman (BA'18) - Aria
Jessica Litman isn't sure if her university days are over. She's earned a Bachelor of Arts degree in sociology, but still hankers for a political science degree. And she's considered law, as well; her father is a successful lawyer.
But right now, her focus is on Aria, a large, airy resto tucked among the Lakewood, Rosewood and Briarwood neighbourhoods. As much as anything, restaurants have been a part of her life.
"My boyfriend has run restaurants all over the city and I've been in the service industry since I was 16 years old," said Litman. "It put me through university. The hours really work for students.
"My dad also knew lots of restaurant people. We spent our lives in restaurants. My grandmother said I was in a restaurant in my first week of life. Restaurants are just comforting places to me."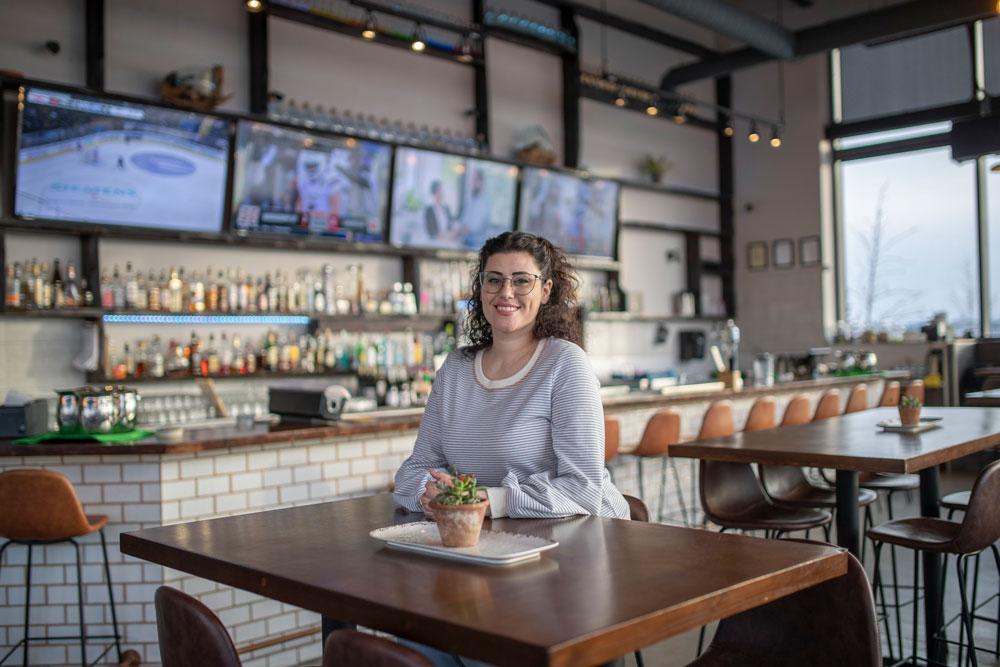 After graduation, Litman considered her options, and was also immediately attracted to the space and location of a new building on Slimmon Road.
She'd already done every restaurant job, from cooking, serving and washing dishes to managing—and she had support from her boyfriend. Plus, she had a good feeling about the market.
She also had a clear vision of the niche she wanted to fill and, on the strength of it, opened Aria last summer.
"I'm a vegetarian, and my boyfriend is not. I find that it's tough to find a place with options for both—or other dietary restrictions, gluten sensitivities, dairy sensitivities, vegans. I wanted somewhere where people with restrictions could go and their families . . . could have the things they wanted to eat."
While her degree is unconnected to the food industry, she says her university years were still incredibly important to her growth and development.
"I'm glad that I'm educated; I'm definitely a different person because of it. It has just shaped the kind of person that I am, my political views, my social views, the way that I look at people . . . and how I go about dealing with them," she said. "It's just totally opened up my mind. I wouldn't have given up going to school for the world."
Favourite dish at Aria: Beet risotto
Favourite food: Impossible to answer
Favourite beverage(s): Coffee, water, cider
Madeline Conn (BA'10, MBA'12) - High Key Brewing Co.
While Madeline Conn was dreaming of and studying for a career in non-governmental organizations (NGOs), she also worked in restaurants and pubs from the age of 16.
"I thought I was going to work for a non-profit NGO," said Conn, who did an internship in Jordan for six months after earning her BA. "The NGO I worked for there was teaching youth business skills, so they could get jobs when they finished school. I saw the need for a business background, so that's why I decided to get my MBA."
After completing her business degree, Conn took a software job in Calgary. The training was down in Dallas, Texas.
"It was 2013, and the brewing industry in Saskatchewan was just starting up. I wasn't too familiar with that whole industry, but it was very lively and big in Dallas. I just fell in love with it."
It appealed to her because the craft beer industry was about supporting local community and business, and sourcing locally. Those elements drew on her international studies background, "because that local emphasis is what they promote, too, for developing countries."
From Alberta, she watched the Saskatchewan industry open up and regulations for craft brewers change.
"I really thought now was the time to jump on it, if I was going to do it."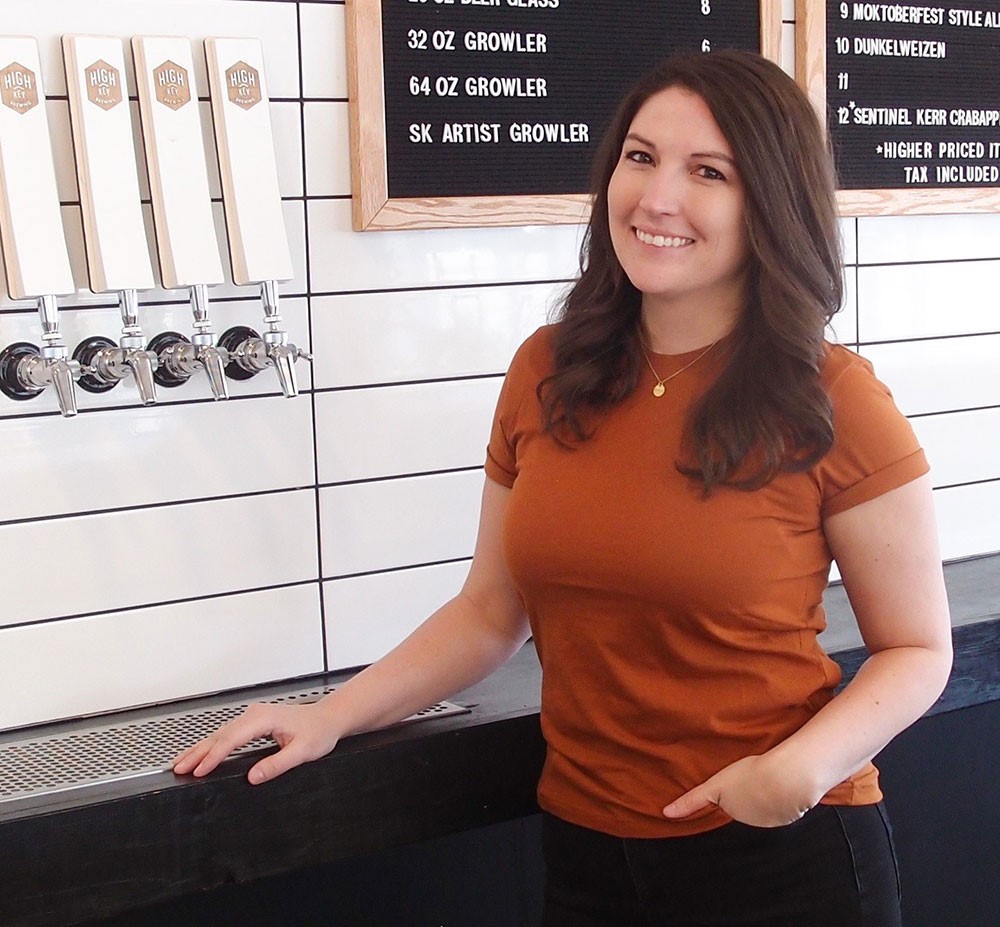 She returned to Saskatoon with a business plan and, in 2017, dove into finding financing and a location. She found space on Quebec Avenue, and upgraded and renovated it. Because Conn is not a brewer, she also needed to find a brewmaster, and through family friends met Daniel Rommens.
"He has a similar story," she said. "He's from Saskatoon, left a corporate job to pursue brewing and was willing to take the risk and jump on board."
High Key Brewing Co. opened in the summer of 2018 with a brewery and taproom. Since then, Conn has also hired USask alumnus Matthew Chevrier (BSKI'14).
The beers can be found in 20 Saskatoon tap locations as well as in Regina and a few other communities. Meanwhile, the taproom is becoming a popular spot for events. It amazes Conn how frequently, on Saturday afternoons, wedding parties show up in their limos, have a beer and get their pictures taken.
High Key started a canning line earlier this year, with canned product now available at local retailers.
"Things are going really well," said Conn. "Our product is being received phenomenally."
Favourite High Key product: Pink IPA
Favourite beverage: Beer, of course
Favourite food: Good pub food, like buffalo chicken wraps and poutine   
Andy Yuen (BA'05, BE'05) - Odd Couple
Andy (Ka Fai) Yuen may be an engineer, but his roots run deeply in hospitality.
When he immigrated to Canada in 1996 from Hong Kong, he originally settled in Wynyard, Sask., where his uncle owned a restaurant. His parents helped out at the business for a couple of years until they bought their own café in Lanigan, Sask.
But, at the time, Yuen had other ideas.
"When I was kid, I wanted to wear a lab coat, so I either wanted to be a dentist or working in a lab," he said.
Yuen was accepted into the College of Arts and Science at USask, where he completed an economics degree. He graduated with an engineering degree that same year.
He landed a position at International Road Dynamics, and went on to other engineering jobs, among them cost estimating for uranium and potash mine projects.
Yet even while attending university, Yuen thought about going to chef school; he found peace and enjoyment in cooking, sometimes until two or three in the morning. His roommates did not complain.
Then, in 2007, he and his parents opened Warman's first Chinese restaurant, called Chopsticks. Yuen helped his parents for the first 18 months while still working in engineering.
It was a hit.
"We sold out of food for the first two months, every day," he said.
They sold the successful restaurant in 2013; soon after, a spot on 20th Street in Saskatoon opened up in a building owned by Yuen's friend, Curtis Olson of Shift Developments. Yuen decided to go for it. He blended his love of cooking with his understanding of the restaurant business to open the Odd Couple in May 2014.
The Asian-fusion resto employs eight full-time and 11 part-time staff; two chefs are in the kitchen along with his mother, Jane Yuen.
"Odd Couple focuses on Asian flavours merging with Canadian and Saskatchewan ingredients," said Yuen. "The only rule we have is we have no MSG in our kitchen."
For example, he creates a pork sausage with an Asian influence. Yuen chops up all the fresh herbs and takes it to Pine View Farms, where they are mixed with pork. No preservatives are allowed; he describes the sausage as "really clean" and serves it at brunch with Asian-style potato pot stickers, in a play on Ukrainian sausage and perogies.
His education may not have taught him anything about food, but it did teach him to be dedicated and punctual, to prioritize tasks and to give himself deadlines. He says he uses his math skills, as well as his economics background, to interpret business on the macro scale.
"Food is a mix of art and science," he said. "Creating the dish is an art. Reproducing it consistently is a science."
Favourite dish at Odd Couple: Asian pork sausage
Favourite beverage(s): Americano coffee, bourbon, ginger honey tea
Favourite dish/food: Fried rice, blueberries
Article originally published on https://artsandscience.usask.ca/.