Robert Loewen (BEd'70, MEd'73) believed earning a degree from the University of Saskatchewan (USask) would guarantee a door would open.
His philosophy was that once you took that first step to walk through that door, more doors would appear and open. That's why obtaining an education for his family was so important to Loewen, who passed away in August at age 76.
His family paid heed. All told, there are 21 USask degrees in his extended family, including daughters Patricia Warwick (BA'89, LLB'92) and Jennifer Dagenais, (BSc'01), and 23 degrees in total.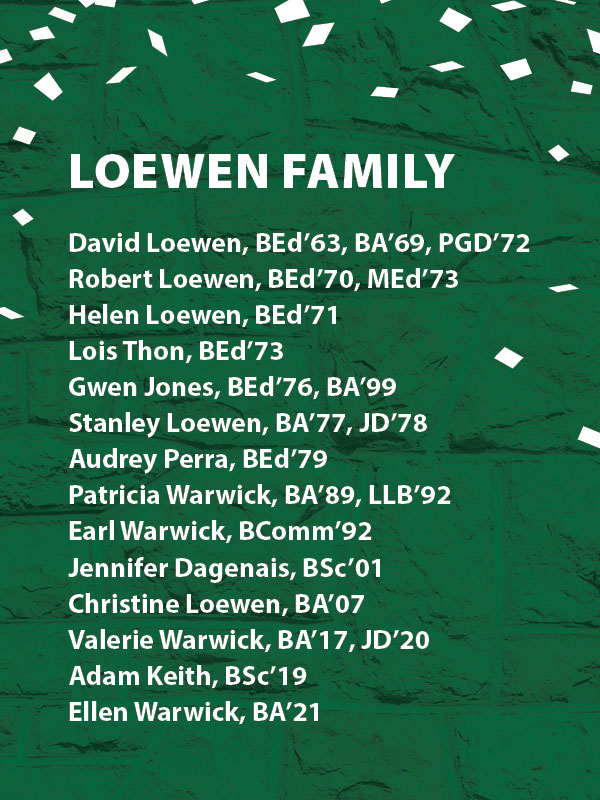 "As an educator, it was important for dad that all of his students reach their full potential," said Warwick, a lawyer for the federal government following a stint as City Solicitor for the City of Saskatoon.
"Even if university was a stretch goal for some students, he encouraged them to go for it and to see what they could achieve. He wanted his students to widen their perspectives from what they gained in high school. He wanted them to see, learn and experience all that university has to offer."
Loewen took his USask education and a PhD from the University of Alberta and taught school across Saskatchewan finishing his career at the Carry the Kettle First Nation. His work there was a point of pride for Loewen and he was presented with a ribbon shirt this spring.
Loewen's brother, Stanley (BA'77, JD'78), started his working life as a journeyman printer before getting a law degree at USask. Stanley eventually became a provincial court judge in Prince Albert.
But it was her father's insistence that an education provided more than just book smarts, Patricia recalled.
"As dad would say, 'you don't know what you don't know.' Going to university widens your perspective. You meet new people, gain new appreciation for "differences" and start to realize that there are a lot of things that you don't know but that you could know and should know." 
These are the very same principles that she passed down to her daughter, Ellen (BA'21), who is the latest of the family to obtain her degree.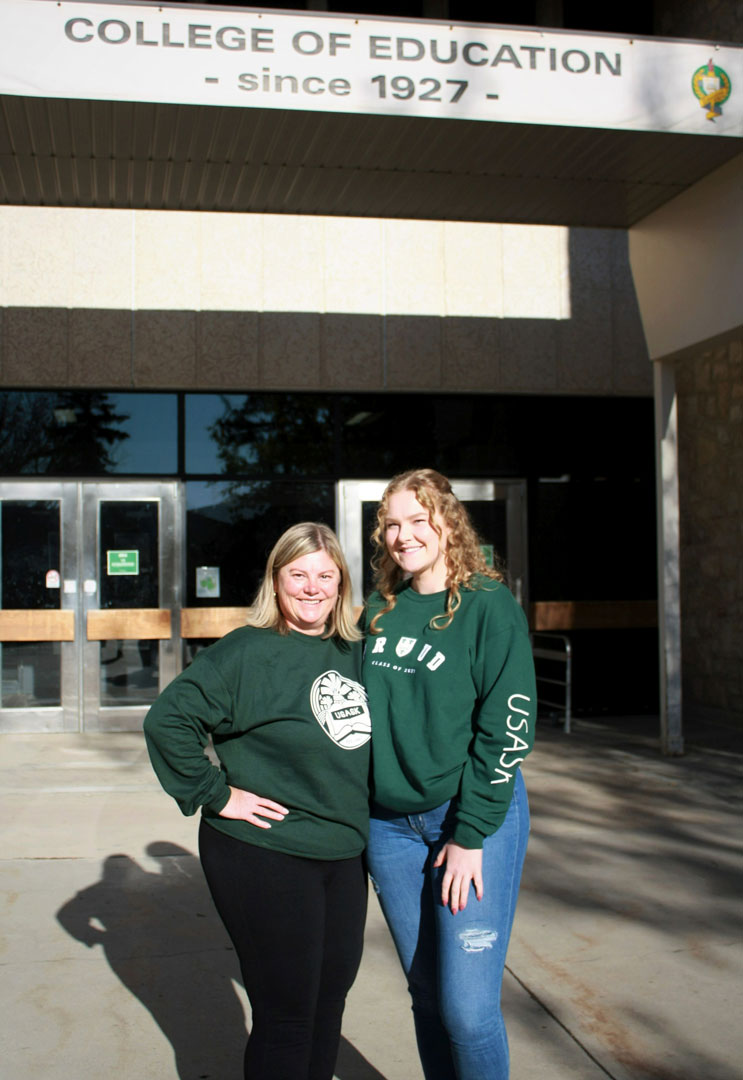 "My family has always had high expectations for me and what I can achieve," said Ellen, who anticipates a return to USask to further her education.
"In this way, there was definitely a certain pressure or just expectation that I would attend university. This pressure was not unwelcomed though, having been brought up under the assumption I could do great things with my life, I was not uneager or unwilling to attend university. In this way, pressure may be the wrong word but rather belief that university would be a step for me in living up to the examples set by my parents and grandparents in what can be achieved in life."
Patricia agreed, saying as parents with husband Earl, this was an expectation for their children, as it was for her growing up with her sister, Jennifer.
Ellen's sister, Valerie, graduated from USask with a Bachelor of Fine Arts in 2017 and a law degree in 2020.
"We believe it is the starting point for success in life. But we are not talking simply about career or monetary success. We are talking about broadening horizons; learning about other languages and cultures; considering different world views, philosophies and perspectives; meeting new people; and opening hearts and minds to lifelong possibilities and goals," said Patricia.
Patricia says she tried to make her time at university the best she could. She lived on campus for five of her six years at the Emmanuel and St. Chad residence and tried to experience life to the fullest.
"I made many, many friends and met my husband and so I have too many fond memories to count," said Patricia. "I studied hard, but I played hard as well."
Growing up, Ellen had conversations with her grandfather about attending university and she didn't want to let him down. It was a sense of pride for him that his family was entering their working lives armed with an education.
"He always believed education is something nobody can take away from you, once you have the knowledge, the skills, and the degree that is yours forever," Ellen said. "It is that message that got me through some of the uncertain times I went through in my education."
Both Patricia and Ellen look proudly at the long list of family members who have a USask degree.
"Yes, it is cool," said Patricia. "I think it should be bragged about and celebrated. A little bit of wallowing in our collective success may be in order."