Russell Muzzolini (BSc'88, MSc'92, PhD'97) was well on his way to a computer science degree when a trip to the movies showed him how he might put his qualifications to use.
"Terminator 2 was the show I was watching, I think I had taken third or fourth-year computer graphics at the University of Saskatchewan," Muzzolini says in an interview with the Saskatoon StarPhoenix, of the 1991 film, which saw director James Cameron employ landmark computer-generated visual effects to bring killer cyborgs played by Arnold Schwarzenegger and Robert Patrick to life on the big screen.
"I saw that show and I thought: 'OK, this class I'm doing, I could actually do that kind of stuff.' "
Muzzolini admits that before seeing the film, he chose computer science simply because he was "OK at math," and it seemed like a field with decent career prospects.
Saskatchewan winters also helped keep a young Muzzolini focused on his studies.
"I wanted to get out of the cold weather, so I was like 'oh crap, I better look at something where I can actually get to a nice state like California.'"
Muzzolini made it to Silicon Valley in the late '90s, with his PhD in computer science from the U of S in hand. His first stop was Alias, the company behind the Terminator 2 movie effects that wowed him earlier that decade.
From there, he "lived and breathed tech" while doing everything he could to make connections.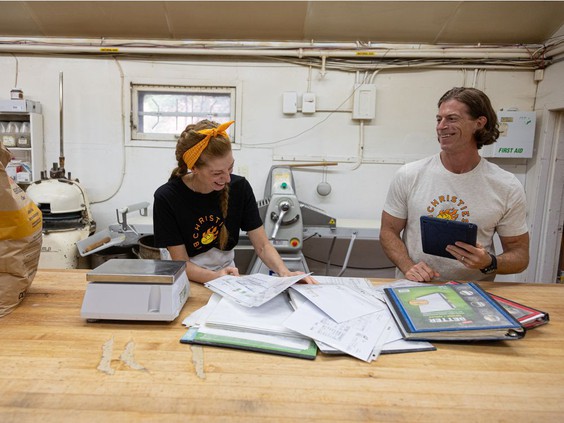 He soon found that his U of S training had given him more than enough technical skills, but unfortunately, it didn't do much to wow recruiters more familiar with schools like Stanford or the Massachusetts Institute of Technology.
"When you say 'Saskatchewan' and you have to repeat it once or twice, I just stopped saying it, I'd just say: 'I went to school in Canada.'"
A lack of name-brand credentials might have been a hurdle, but a Saskatchewan upbringing gave him plenty of advantages as he hunted for a foothold in the tech industry.
Muzzolini's family has owned and operated Christies Bakery in Saskatoon's Mayfair neighbourhood since his parents, Ennio and Janet, bought it in 1966. He says being immersed in the day-to-day operations from childhood was an education no six-figure American college could ever hope to match.
"Just being practical about business is a huge thing that carries a lot of weight," he says. "You'd be surprised how many people don't understand that (in Silicon Valley) — a large number."
Muzzolini also benefited from a number of mentors along the way. He points to Herbert Yang, his supervisor at the U of S, as someone who provided inspiration and motivation early on.
Read the full article at https://thestarphoenix.com.