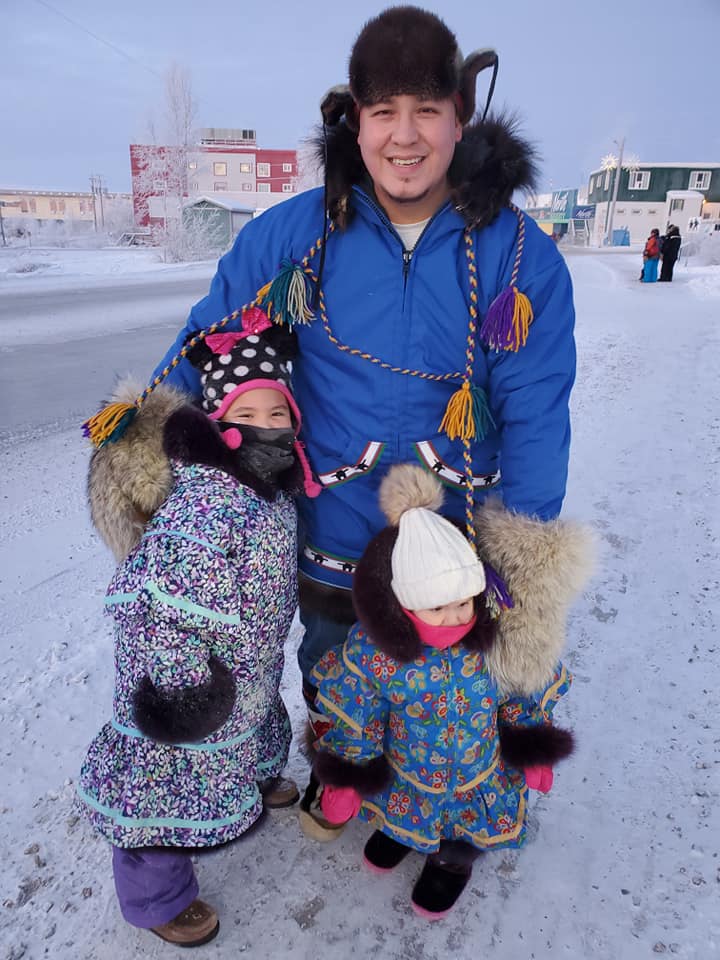 At 34 years old, Dwayne (Adjgaliaq) Drescher (BEd'16) is not exactly a senior citizen.
So it's no wonder Drescher was surprised when an Elder gave him the nickname, "grandfather."
"I often questioned him why he would say that and he would never answer. He was always very quiet and he would giggle about this," said Drescher, who lives in Inuvik with his wife Deanna and three young daughters. 
Finally, one day, the Elder provided the answer. 
Drescher's nickname "grandfather" was given because he was named after Freddie Carpenter, who bore the Inuvialuktun name Adjgaliaq. Carpenter was a well-known hunter/trapper in the territory who often travelled from Tuktuuyaqtuuq (Tuktoyaktuk) to Ikaariaq (Sachs Harbour) by boat to trap and trade Arctic fox fur.
Dwayne's grandmother knew Freddie Carpenter and gave Dwayne his Inuvialuktun name Adjgaliaq (pronounced Uhj-gul-ee-ak), after him. 
"The Elder told me I reminded him so much of Adjgaliaq (Carpenter), his grandfather, that he would just call me 'Ataataga.' I felt honoured that he respected my namesake so much, that he nicknamed me his grandfather. I guess what he was saying was that there is no age to wisdom. That's what I took from it. Grandfather was a wise man."
With that trait, no one should be surprised that Drescher, who was born in Fort Smith, NWT, and raised in Tuktuuyaqtuuq and Inuuvik (Inuvik), was recently presented with a Northwest Territories Ministerial Literacy outstanding education award. The award is given to teachers who contribute greatly to teaching and enhancing literacy in the territory.
Drescher was also the Most Outstanding Graduate in the College of Education during his fall graduation for his bachelor's degree he received with distinction. Not only was he good at the theoretical aspects of education, but now also with the experience of the practical aspects as well.
Becoming a teacher was a direction the USask alumnus says came naturally to him. After graduating from the Indian Teacher Education Program (ITEP) program at the University of Saskatchewan (USask), Drescher eventually moved back to Inuuvik to teach reading and writing skills to all ages of elementary school children. He is Inuvialuk and teaches Inuvialuktun, the native language of the area, at East Three School in Inuvik.
Drescher followed in his father's teaching footsteps who also graduated with a Bachelor of Education in 1998 from USask.
Drescher's Inuvialuktun name Adjgaliaq was passed to him from his grandmother, who saw similar traits in him as an infant that Carpenter had shown. The name Adjgaliaq translates into English as "created by hands." Where Drescher lives now, the local dialect translates his name into "big hands."
"Now, when people say my name, they look right at my hands to see if they match my name," he said.
Ironically, Drescher really does have large hands. He can palm a basketball.
It was Drescher's father who pointed out that teaching was something that came naturally to him.
"He said to me, 'You know, Dwayne. You've always been a leader. You've always taught people, no matter what you have been doing. I've seen you teach people how to skateboard. I've seen you teach people how to play hacky sack. It just comes natural to you.'"
Drescher's father laid it out to him, telling him he had a gift with language and teaching was something that should be nurtured.
"In that moment, I kind of had an epiphany," recalled Drescher. "Knowing that not many people speak the language, I wanted there to be change. I wanted lots of people to start learning the language."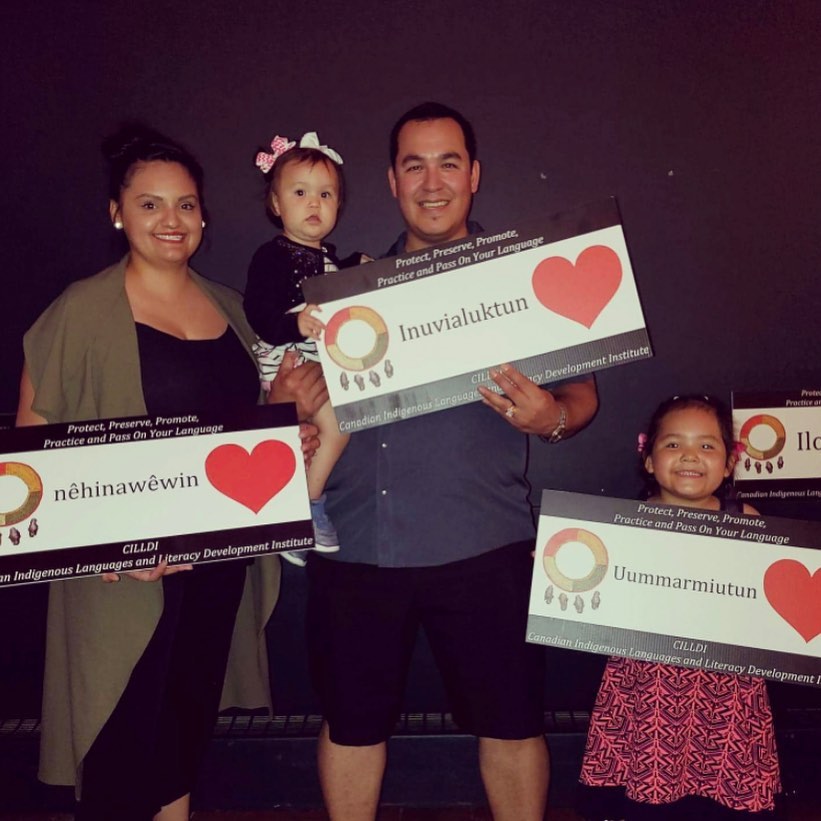 Before long, Drescher embarked on his teaching path through a local college and ended up doing a two-month summer program through the University of Alberta, the Canadian Indigenous Languages and Literacy Development Institute (CILLDI), before applying to USask's ITEP program. While he spent the majority of his youth in the Northwest Territories, he spent a year in Saskatoon while his dad was in university, so the USask campus was not foreign to him when he arrived.
After graduation, he started applying for teaching positions. Drescher was eager to get going because it was very important to him to start teaching his language to his people.
"Just give me a job because I want to teach in my community to my people," he said. "That was always one of my goals – to educate and to inspire my people."
He was urged to not return home until he had experience teaching somewhere else, but the draw back home was too strong.
When Drescher did put his signature to the job offer to be a language teacher in Inuvik, he almost felt a sense of relief.
"I felt like I had succeeded. This is what I wanted to do."
After Drescher received the award this winter, he admits to being a little surprised by the recognition and accolades.
"I was really humbled because I know of so many educators out there that I think work much harder than I do that without a doubt deserve the award far more than I."
Drescher's reaction to receiving the prestigious award speaks volumes about his passion and maturity far beyond his years – almost like he was a grandfather.