You could easily call Todd Peterson a superfan for Huskie Athletics. He's a founding member of the annual Dogs' Breakfast fundraising initiative that has raised nearly $2 million for scholarships.
Anyone remember the bitterly cold Vanier Cup held in Saskatoon in 2006? A bundled-up Peterson was there as an organizing volunteer and he's also volunteered and supported many other Huskie projects and events as well including the University Cups and the Merlis Belsher Place Home Ice campaign.
If there is a Huskie game or event, chances are Peterson will be there in some capacity. So, we couldn't think of a better person to talk to about Huskies Athletics in lead up to this weekend's Hardy Cup game: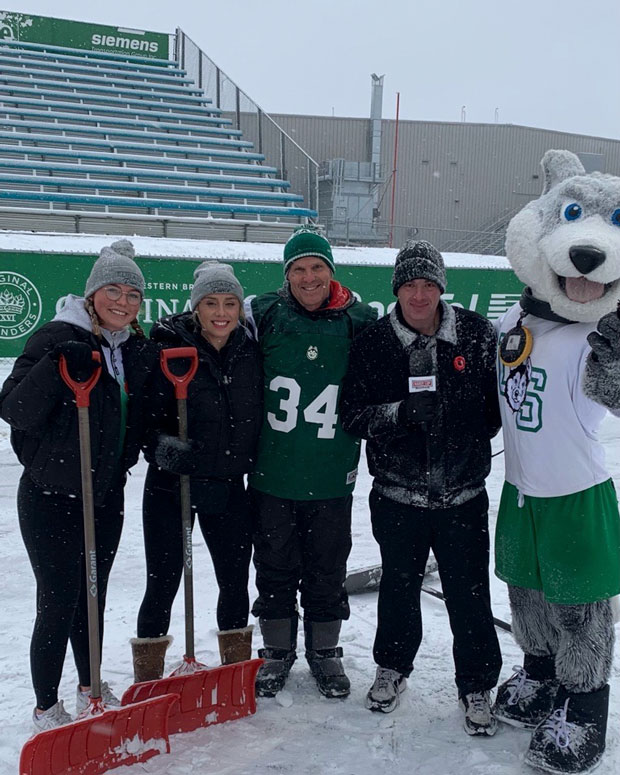 1. What makes Huskie fans so passionate?
The hundreds of thousands of alumni and student athletes of the university in conjunction with Saskatoon, Saskatchewan, Canada and beyond, love and have taken ownership of the Huskies, Saskatchewan and the university.
2. Why have you been so deeply involved with the Huskies? 
For the reasons above and getting to work with incredible smart, fun, bold, ethical, connected, diverse, committed and get 'er done people in the community and university to deliver excellence, teamwork, trust, respect, sustainability and results.
3. How important are fundraisers like the annual Dog's Breakfast to the football team and Huskie Athletics?
The Dogs' Breakfast is the best sport breakfast on the planet. Why? Class and respect throughout in the delivery, brand, culture and experience. The USask Huskie Football Foundation (HFF) which has delivered the Dogs' Breakfast since 2001 in partnership with the university, Prairieland Park is so diverse and inclusive in how we work with USask, Huskie Athletics, the football team and the community. It is a dream come true and best in class. I was actively involved for 10 years, and without hesitation, the women and men leading the HFF have taken it to a level of greatness that is unsurpassed in all the land. The Dogs' Breakfast and other Huskie fundraisers connect the university with the community.
4. What's your favourite Huskie memory?
We are blessed to have had countless sponsors, fans, players, guest speakers, parents, HFF members and alumni tell us each year when they leave the Dogs' Breakfast they are energized, proud of their community and the contribution they made to make it so. They have earned the right for the success and that the USask HFF Dogs' Breakfast is theirs because it is exactly that: Theirs. More than 600 student athlete HFF football scholarships have been provided and close to $2 million of net revenue has been generated from the Dogs' Breakfast. As well, each time I step into Griffith Stadium, Nutrien Park, The Graham Huskie Football Club House, Merlis Belsher Place, the PAC, the Saskatoon Field House to watch, see, feel and take in the pride of community, student and aspiring athletes, builders, donors, volunteers. The blessings are always fresh, cherished, fun, memorable, special and invigorating. If you know what I mean or haven't experienced this don't take it for granted. A lot went into building this culture, facilities, fan experience and purpose for us to enjoy.
5. What's your advice on how to stay warm in the stands this Saturday afternoon?
That's easy. Stay warm and connected to the Huskie Football Team, your community and university by going to the game this Saturday. Passion for what we enjoy most about our Saskatoon, Saskatchewan and the university is living it, stepping up and going to the game. Nothing builds warmth, comfort, energy and pride like attending a Huskie Football game. There are hundreds of thousands of us with a connection to the above. Don't leave it up to someone else to make a difference. Go the game and have the time of your lives cheering on the Huskies and all we are blessed with. Come on -- Huskies are strong cold weather Dogs, Thunderbirds are just that. Come on let's start a rally and goooooo!   
---
GAME FAQ:

WHO IS PLAYING: University of Saskatchewan Huskies vs. the UBC Thunderbirds at Griffiths Stadium at Nutrien Park on Saturday, Nov. 12. Game scheduled for 1 pm local time. Purchase tickets.
WHAT'S ON THE LINE: Winner takes the Hardy Cup as the top team is Canada West for the 2022 season. The winner goes on to play in the Uteck Bowl Nov. 19. The losing team sees their season come to an end.
WON/LOSS RECORD: Huskies defeated UBC 29-10 in September. UBC beat the Huskies for the Huskies only loss this year, 35-29 in October.
WHEN WAS THE LAST HARDY CUP FOR THESE TEAMS: UBC last captured the Hardy Cup in 2015, while Saskatchewan has won two of the last three Canada West football titles. On both of those occasions, the Huskies prevailed over the Calgary Dinos, 43-18 at Calgary in 2018 and 39-17 in Saskatoon last year.
WHO ARE THE COACHES: Legendary CIS coach Blake Nill leads UBC while Huskie alumni and CFL Hall of Famer Scott Flory coaches the home team.
WATCH ON TELEVISION: Catch the action at huskiefan.ca. The game will be streaming live on SaskTel (channels 49 & 349), TELUS (channels 997 & 998) or Canada West TV.
WEATHER FORECAST: Snow flurries are expected and a temperature of minus 10 C at game time. Grab a fellow alumnus, a friend or family member, find some green and white and we'll see you at the game. Dress warmly!