Tell us about your first memory of USask:
I felt like I was in a very different country going to study at the university. The buildings were very colonial and being at a place like that was like being at another part of the world. It was very foreign to me and a lot different. And of course, like many of us who continue to go there, we see the beauty the university has. It's a little intimidating at first, like, do I really belong? 
Did you have a favourite place on campus just to sit and relax?
I think, at first, I really didn't (have anywhere to go) because I would normally just take my work home and do it there. But as I started to grow and know the university a little better, I did find some pockets of solitude and solace like the bowl and just being able to sit out there in the green space. Also, the (Gordon Oakes) Red Bear Centre, as I was surrounded by peers of mine and, also, the beautiful space that it is. I really enjoyed that space. I feel the open ceiling and that environment I was able to let my imagination and growth happen there. It's kind of inspiring, and for me, it was also very grounding, for me and my identity and culture.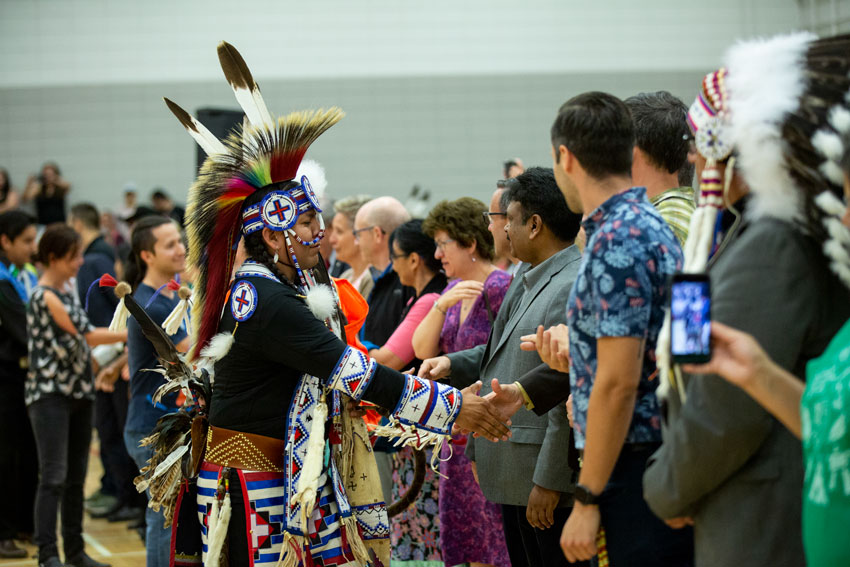 How has your USask training helped you to get where you are today?
I had been in the field of education for a number of years and I think what USask training has given me is the tools to express what it is that I hope to see as a reflection of our representation in our education. Going to the university I really learned the skillset of really being able to walk in that world that again, was really foreign to me. USask gave me the ability to walk that path and gave me that critical skill of being able to look at things in a different way. 
Is there someone on campus (a professor or peer) who helped you find your direction?
I found a lot of inspiration and enthusiasm and a lot of strength from various Indigenous professors who had very similar experiences to myself. They understood where I was coming from and why I decided to come back to university to try to create change or be that change. Verna St. Denis and Karla (Jessen) Williamson and Chris Scribe, the former director of the ITEP program, Mika Lafond and Yvette Arcand. These are the ones who continue to support me, even today. I tend to reach out to my former profs and the experts we have who are representative of our community who have that ability to bridge what we know as academics, but also what we know as Indigenous people. Today, they remain great peers and anytime we get the opportunity, we always have meaningful conversations. I really do hope that they know they have inspired and impacted many of us more than they will ever know. I think that's continuous practice of Indigenous people that kinship relationship, once it's built, it's just about forever. Even outside the of the classroom, they were very supportive. 
What would you tell someone who is thinking about following your USask path?
I would say that it's never too late. I think I returned to university at age 35 and I did have some life experience and I think a lot of that prepared me for the struggles and barriers that I would have to overcome even at university. I would be lying if I said the experience was nothing but great.  The toughest thing is to find a program that supports you. Take the path that you feel is for you and if there isn't space there, create your own space and break down those barriers.  
---
It's the People of USask who enable us to be what the world needs.