While his career has taken him all over the world, sports journalist Devin Heroux's (BA'09) professional and personal life started on both sides of the riverbank in Saskatoon.
Whether there is rain, sun, sleet or snow, Heroux makes sure his hometown visits include walking a familiar route.
Starting at the Broadway Bridge, he heads toward the university on Saskatchewan Crescent, passing the University Bridge to the train bridge. He then walks across that bridge and loops back until he reaches the Broadway Bridge again. It is along this stretch of riverbank that he has overcome heartbreak, celebrated victories and processed everything in between.
"I tell people that my growing up in Saskatoon was perhaps the biggest blessing ever," Heroux says in an interview with the Saskatoon Star Phoenix.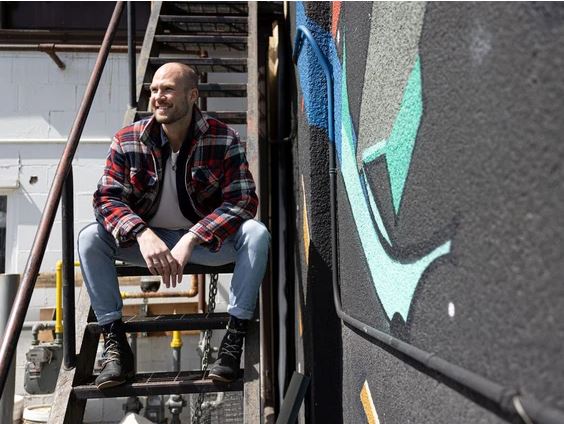 Heroux, 35, has lived a career that is a dream for most sports fans. Currently based out of Toronto, he has travelled the world covering NBA championships, Grey Cups and U.S Open tennis. Beijing 2022 marked Heroux's third consecutive Olympic and Paralympic coverage with CBC.
Heroux hopes to attend the next Winter Olympics as an athlete instead of a reporter, as he trains in long-track speedskating with a goal of qualifying for the 2026 games in Italy.
From Heroux's reporting over the years, he has racked up quite the following on social media, especially Twitter. Many of his tweets begin with "Good morning sports fans," providing a look at what's on the sports schedule for that day. His tweets covering the events are concise but always include the excitement of the game.
Without knowing that he would become a sports journalist, Heroux was a storyteller from a very young age. He loved finding information that people didn't know and sharing it with others.
Heroux's mom, Jennifer Heroux, can attest that he was the family's communications representative. She recalls one instance when there was an injury in the family. Heroux was there and was sure to keep everyone updated on the incident.
Storytelling was only one element of Heroux's early years that is still present in his life today.
"He just had a twinkle in his eye. He had the gift of the gab, very witty and smart," Jennifer says.
Heroux grew up on the west side of Saskatoon. He would walk about 20 minutes to his elementary school in Dundonald, knowing every neighbour along his route.
While attending Bedford Road Collegiate in Grade 9, The Bedford Road Invitational Tournament, BRIT, immediately caught Heroux's interest.
"Bedford felt like a family to me, and that's been a theme throughout my life and my career is the places where I feel I belong there's a community and family that I naturally gravitate toward," Heroux says, adding that this is why he stayed at Bedford when his family moved to the east side of Saskatoon.
He would wake up earlier than his peers to get a ride with his dad, Bob Heroux, to the west side and walk the rest of the way to school. Heroux waited for the janitors to arrive and open the doors.
Another early love of local sports for Heroux came from the Saskatchewan Roughriders. His mom recalls that his first Rider game was Riders versus Hamilton Tiger-Cats. The family went to the game after Heroux's hockey game, in which his jersey was the same colours as the Tiger-Cat's jerseys. After that game, and perhaps a wardrobe change, Heroux's passion for the Riders grew. He hosted the Rider Game Day Express, where he would entertain the travelling bus of fans from Saskatoon to Regina and back.
"All of these things make him connected to our province. They remind him how great our province is. It all started when he went to that first football game," Jennifer added.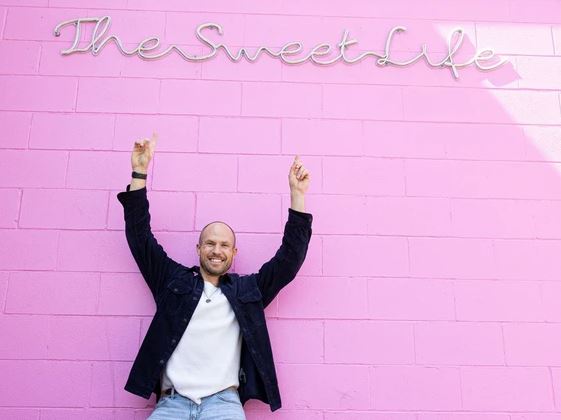 Heroux attended the University of Saskatchewan, getting his bachelor of arts with a major in English. Admittedly, he was not a great student. There was much more happening in his life than readings and essays.
But the idea of a career in journalism was present. Heroux became the sports editor of the campus newspaper, the Sheaf.
The Sheaf shared a building with the USSU Pride Centre. As he walked past it each day, he says he started confronting the reality of his sexuality.
Interested in exploring this group, Heroux says he started standing at the door to peek inside and see the rainbow pride flags and ask 'what happens in here?'
Then, as comfortability grew, he would move to the couch to sit and participate in the conversations, which led to Heroux "finally" coming out and coming out publicly.
In an article titled 'Let's be honest' that ran in the newspaper, Heroux writes: "Just recently, I was able to come to terms with yes, I am gay, and I am the sports editor of the Sheaf. I was able to tell my parents, friends, and acquaintances and be all right with it."
"It wasn't about anybody else at that moment. I had finally reached the point where I was kind of OK with this, and I wanted to sing it from the rooftops," he says. In hindsight, Heroux reflects that it was not a perfect moment, that the article was another way of convincing himself that he was OK with his sexuality.
Read the full article at https://thestarphoenix.com