At the University of Saskatchewan (USask) College of Education, this spirit is embodied most pointedly in Dr. Beverley Brenna, newly minted professor emerita from the Department of Curriculum Studies. A classroom and special education teacher, children's literature researcher, and award-winning author of books for children and young adults, Brenna's career is one shaped by a love of learning and a personal mission to develop solutions to the literacy challenges she encounters. In addition to earning her PhD from the University of Alberta (U of A), she holds a BEd, MEd, BA and Special Education Certificate, all from USask.

"I was always wanting to learn more in the teaching of reading. That was a driving force in my practice," said Brenna.

This drive has led Brenna into a variety of roles in the education field—elementary school teacher, daycare provider while raising her three boys, special education consultant, and eventually faculty member in the College of Education, a role she took on in 2010.

Throughout every step of her career as an educator, a desire to write has always been with her. Her mother Myra Stilborn (nee Smith) published her first poem at age 10, and continued writing and publishing poetry and stories throughout her life. She was a teacher before meeting and raising a family with Brenna's father Arthur Stilborn. An educator as well, he taught at USask, after working as a caretaker in Lower Place Riel, and became the director of the School of Agriculture.
The power of characters that reflect a diversity of experiences
Brenna has published 14 books for children and young adults, beginning with 
Daddy Long Legs at Birch Lane
, released in 1996. While working as a consultant with Saskatoon Public Schools in the early 2000s and searching for books for general classroom use that represented children with exceptional learning needs, Brenna discovered a gap.
"I felt like we didn't have enough materials where someone with exceptionalities was the protagonist and we didn't have a list of materials to know what we did have," said Brenna. "That's when I thought somebody should make that list, somebody should write more books. And when I find myself thinking 'somebody should', well maybe that somebody is me."

Brenna turned that motivation into the young adult novel Wild Orchid, the first book in a trilogy about 18-year-old Taylor Jane Simon, a character with autism.

"I think everybody needs to be able to read about characters and themes that are important to them and that reflect their lives. Whether that is exceptionalities, or other kinds of diversity or content," said Brenna. "I've had lots of really heartfelt letters from young readers that responded to my characters, feeling seen and heard, even though their exceptionalities weren't necessarily the same ones that were presented."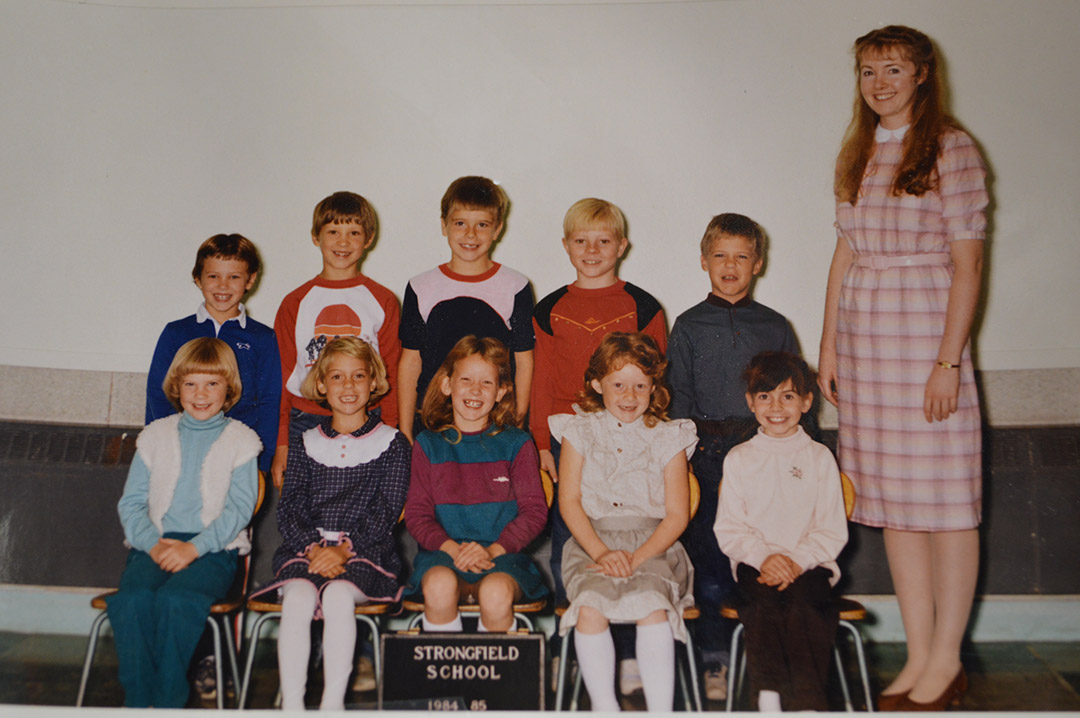 Brenna recalls a letter written to her by a girl with cerebral palsy who identified with the character in Wild Orchid and felt that some of the same structures and restrictions that society was placing on Taylor represented this reader in her own life.

"It's really meaningful to me to hear from kids and adults who are touched by my work. I save every letter that I get," said Brenna.

With Wild Orchid finished, Brenna started to turn her thoughts to the other literacy challenge she'd encountered: the need for a resource list.

"Sure I could write one book, but that might not change the field that much. That's when I started phoning around to universities about PhD programs and connected with Professor Joyce Bainbridge at the U of A," Brenna said.

Her dissertation focused on patterns and trends in Canadian novels portraying a character with an exceptionality in a prominent position such as a protagonist or antagonist.

"Some really interesting stereotypes came to light. If there was mental health or mental illness spoken about, it was usually the mother, rarely the father. And if it was the father, they usually got cured before the book ended," said Brenna. "Doing this research has helped inform my own further writing. I hope that it inspired other people to either write or do more research. Those were my goals, in addition to using these book lists in classrooms."

As part of her dissertation, she interviewed three prominent award-winning Canadian authors—Jean Little, Pamela Porter and Rachna Gilmour—to explore what led them to write about protagonists with exceptionalities.

"They had really interesting stories to tell about difference and why they were on that path," said Brenna. "Jean Little talked a lot about why she wrote about ability, because in her life [as a visually-impaired person] she hadn't found books that represented her."

Brenna would go on to publish her dissertation as a comprehensive education resource in Stories for Every Classroom: Canadian Fiction Portraying Characters with Disabilities. This book features her mother's stories and lessons from her time in the classroom.

"I think my mom's narrative has shaped me in a way that only stories can do and lit a fire under me to be a better teacher than some of the teachers she had," shared Brenna. "She had stories about children in her home district when she was a child, and the horrible kind of persecution that some kids faced because of a difference perceived by other children [and teachers] who weren't very accepting."
Joining the University of Saskatchewan
Throughout Brenna's 12 years in the College of Education, she has continued on the path of improving the teaching of reading and the resources available for educators and learners alike. In addition to children's literature and literacy research, her work has included advocating for teacher candidates in the BEd program to be taught the skills and tools they need to teach reading to diverse classrooms.

"When I came to the college in 2010, the plan was to reduce the required elementary English Language Arts (ELA) courses taught, cutting them from two half classes into a quarter class," said Brenna. "I started involving myself in committees and speaking out."

She also learnt there were plans to reduce the number of required special education courses within the BEd degree program.

"I knew as a teacher that I've relied on my own training and those special education classes. And that the field hadn't changed, in fact we have more inclusion than ever before," said Brenna.

Brenna continued advocating and assisting with the BEd program revisions through committee work and being vocal at faculty council, even as a young, untenured assistant professor. She eventually spent a year as acting associate dean undergraduate for the college.
"I've enjoyed working with everybody at the college, and I feel that some of the great accomplishments in my life have been during that early time period in my career here," shared Brenna. "By 2015 the program was reshaped and we got back to a place with two required ELA half-classes and two required special education classes. I give former Dean Michelle Prytula a lot of credit for that."

With her retirement from USask official on July 1, Brenna has ensured a piece of her research remains accessible to educators through a donation of 1,000 children's books to the Education and Music Library. The books represent a closed set of every picture book published by a Canadian author or illustrator, from Canadian publishing houses, between 2017–2019, a special collection made possible through research funded by the Social Sciences and Humanities Research Council of Canada (SSHRC Insight Program). The study culminated in a book published with Richard Dionne and Theresa Tavares titled Contemporary Canadian Picture Books: A Critical Review for Educators, Libraries, Families, Researchers & Writers.

"I still hear teachers say that they don't use a lot of Canadian materials because it's hard to find them or we don't have a lot. Well, here's one thousand!" said Brenna with a smile. "There's lots of good things happening in terms of the evolving content of picture books in Canada, for example there's more Indigenous authors and illustrators and Indigenous content and perspectives. I hope instructors will use these books in unit and lesson planning."

Brenna is looking forward to continuing her writing, teaching and learning into retirement. She's taking watercolour classes through the campus community arts program and is the newly appointed children's editor at Red Deer Press, a publishing house she's had the pleasure of working with in the development of many of her books. Brenna is also leaving the college on a high: one of her most recent books The Girl with the Cat (illustrated by Brooke Kerrigan) was awarded the G. Murray and Edna Forbes Children's Literature Award at the Saskatchewan Book Awards ceremony on June 26.

For Brenna, the future of education looks bright.

"I have worked with the best students I could ever have imagined, and I think they will take teaching way beyond what I've been able to do," said Brenna. "I'm really positive and hopeful about the world to come because of the teaching and learning that will happen under these terrific educators."
Originally published at https://news.usask.ca