A new bursary for students in the University of Saskatchewan (USask) Department of Music will honour the memory of a beloved teacher and musician.
Randi Nelson performed as principal flute and artist-in-residence with the Saskatoon Symphony Orchestra for 47 years and taught flute at USask for more than 30 years. When she passed away in July 2020, after a long battle with cancer, Nelson's family established The Randi Marcel Nelson Memorial Bursary in her memory.
Nelson loved teaching, said Terry Sturge, her husband of 33 years.
"She found ways to fire students' imaginations. I think she felt one of the great things about teaching was when you really connected with a student and were able to inspire that student to do more and dream bigger dreams."
Whether her students "went into music professionally or they went into dentistry, she loved the people that she worked with," said Sturge.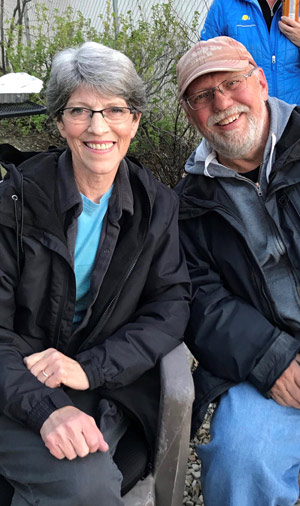 Nelson particularly admired music education students, who, as teachers, would discover and mentor talented musicians in schools across Saskatchewan—including many who would later attend USask to study with Nelson.
That's why it seemed fitting to honour her name with a bursary for music education students at USask, said Sturge. Funds for the bursary were donated by Nelson's friends and family.
The Randi Marcel Nelson Memorial Bursary will provide financial support each year to undergraduate students pursuing a Bachelor of Music degree in music education through the College of Arts and Science's Department of Music.
Nelson—the daughter of the late Dwaine Nelson, an influential professor in the Department of Music—was nationally renowned as a flutist.
"Randi was one of the foundational pillars of our local music community for decades. She meant so much to her students and had an impact there, but she was also one of the most respected, most revered performers in our province," said Mark Turner, executive director of the Saskatoon Symphony Orchestra.
During her nearly five decades with the symphony, Nelson "garnered herself a reputation not only here in Saskatchewan, but across the country as one of the finest principal flutes in any orchestra," Turner said.
Dean McNeill, head of the Department of Music, said that Nelson is remembered by her students and colleagues for her humility, humanity and professionalism.
"Randi served as a role model and mentor to many. We are all very fortunate to have had Randi, and her entire wonderfully musically gifted family, in our community for so many years."
McNeill said the Randi Marcel Nelson Memorial Bursary is particularly meaningful because it will make a big difference in the lives of young musicians in the community where Nelson lived and worked. "This award opportunity is yet one more gift from Randi and her wonderful family to our community. This award will benefit our community, on and off our campus."
USask continues to accept donations to the Randi Marcel Nelson Memorial Bursary fund. Gifts to the fund can be made online through the university's secure giving website.
Article originally published on artsandscience.usask.ca