After an exceptional career in the Saskatchewan legal system, the characteristically humble Hon. Gerald M. Morin (JD'87) struggles when asked what he would consider his greatest accomplishment.

"How do you measure accomplishments?" Morin asked. "Being a judge, you have to have integrity. You have to be fair. Every case is important for that person in front of you."

The larger-than-life character who is affectionately called "Gerry" by his friends and colleagues, grew up in Cumberland House, Sask., and is a member of Peter Ballantyne Cree Nation. As a young boy, his father endorsed the importance of education, which influenced Morin's lifelong passion for knowledge.

"Dad said 'Go to high school and I'll always make sure you get home whenever you can.' The message that education is important was always clear to me," said Morin.

Morin completed a one-year social work certificate in 1973, from Saskatchewan Polytechnic (then the Kelsey Institute of Applied Arts and Sciences), and went on to work as a probation officer in Northern Saskatchewan. He received his certificate in social work from the University of Regina in 1978 and his bachelor of social work degree in 1979.

Law always fascinated him and it was his goal to apply to law school, but when he became a single father in the late '70s, he put his dreams on hold to take care of his son.

The dream to become a lawyer was never far behind; his time as a probation officer and becoming a father only strengthened his desire to practice law. His tenacity eventually paid off and Morin enrolled into the University of Saskatchewan law program in 1984.

"Law school is not easy. I didn't find it easy. It shaped me in many ways to work hard and try to accomplish [my best]," said Morin.

After graduating, he practiced law in Prince Albert at the Pandila-Morin Law Office, appearing in all levels of court including the Supreme Court of Canada.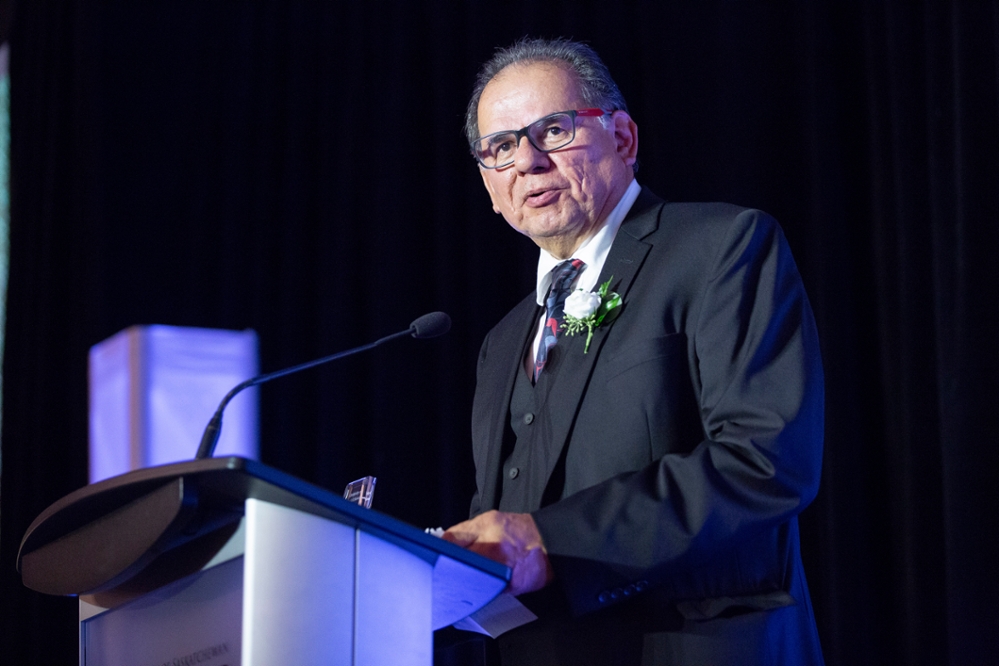 As a speaker of three Cree dialects, Morin was often asked to be an interpreter to clients in the courtroom. When he was appointed to the Provincial Court of Saskatchewan in 2001, he would eventually lead the introduction of the Cree language into the court process.
"It's important that if you're going to introduce language within a particular delivery system that not only do you legitimize it, but that you make it part of [it]," said Morin. "It's more than language. It's a culture. It's our history. It's being able to discuss, in court, our way of life and use our language as a means of achievement."

The Cree-speaking provincial court circuit, led by Morin's insight and leadership, is a unique initiative and the first of its kind in Canada.

"Everyone needs to be heard. Cree allows that in much finer detail," said Morin.

As a judge, Morin sat in many communities throughout his career including Pelican Narrows, Sandy Bay, Whitefish First Nation and Ahtahkakoop First Nation. In 2008, he was appointed to the Northwest Territories and in 2016 he was appointed to Yukon.

Morin notes the importance of giving back to the next generation of lawmakers, acting as a mentor to many lawyers throughout his career. Despite his hectic travel schedule, he initiated the Wunusweh annual lecture series on Indigenous law at USask's College of Law. Wunusweh is a Cree word that translated means 'to make things right' or 'to make law.'

"I felt it was important that we have a discussion of Indigenous issues in law. I felt we as Indigenous people and alumni need to take a lead role with respect to that," said Morin.

Plaques, degrees, news clippings and honours are plastered on the walls of Morin's office, all highlighting a career that boasts 45 years of dedication to the legal profession. Pretty soon, these accolades will be taken off the walls as the influential legal change maker prepares to enter the next stage of his successful career: retirement.

"I think it will always be a part of me," he said. "It was my dream and a dream never leaves you. You just learn to keep living it in a different way."