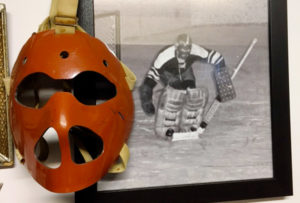 Well, to be exact, that his hockey mask would make the Hall of Fame.
The mask, "an old Jacques Plante-type," says Hunter, came to the attention of the Hockey Hall of Fame through his younger son Robb, who serves as director of corporate partnerships with the Medicine Hat Tigers. Robb attended a hockey event at which he ran into Craig Campbell, Resource Centre and Archives manager with the Hall of Fame, based in Toronto. Robb took with him a selection of his dad's hockey books, including "The Older I Get The Better I Was," which featured a cover photo of Gordon sporting the mask.
Campbell asked Robb if his dad still had the mask, which he did. Campbell got in touch with Hunter to see if he would be willing to eventually donate his mask to the hall's collection.
Flattered by the offer, Hunter, a retired University of Lethbridge professor, decided "I'm going to send it now so I can brag to people that I'm in the Hockey Hall of Fame."
The hall has also expressed interest in a few other hockey equipment items of Hunter's, including a goalie glove and an old pair of skates that date back to the 1960s. While he was usually a goaltender, he recalls at one time playing defence in an intramural league in university.
"I still have the puck from the goal I scored," he notes in a self-deprecating hint at his offensive prowess, in a recent interview with the Lethbridge Herald.
Hunter has had a long love affair with Canada's national pastime. Growing up in Saskatoon, he played pee wee and midget hockey, sharing the ice with several future National Hockey League players, among them Keith Magnuson, Cliff Koroll and Gerry Pinder, all three eventual Chicago Blackhawks.
"I was always the goalie," Hunter says.
For his book "The Older I Get The Better I Was," released in 2015, Hunter sought a grass-roots view of hockey, so he collected stories from people with a southern Alberta connection about their personal experiences with hockey while growing up. The book included reminiscences by Mayor Chris Spearman, former mayor Rajko Dodic, former MLA Clint Dunford and U of L President Mike Mahon.
For the book's title, Hunter says he stole a line from golfing great Lee Trevino.
Proceeds from the book benefitted the Lethbridge branch of KidSport, a national non-profit organization that provides financial assistance to children seeking to play sports.
Hunter's other hockey books include "Hockey Talk: Stories Behind the Voice," which features stories by and about the people who do play-by-play broadcasts of major junior and provincial junior A hockey games in Canada; and "What Rhymes with Puck? Hockey Poetry," now available on Amazon.
He's planning a youth version of the hockey poetry book, to be called "What a Dream; I Made the Team," that will again benefit KidSport.
He's also working on another hockey book, this one more serious, examining the "qualitative characteristics" of hockey players that contribute to team success.
Hunter, who celebrated his 50th anniversary with wife Shirley on April 24, has a collection of hockey books featuring many more than just his own. In fact, he says he has 517 of them. Hockey has played a big part of his life from his own playing days and through his time coaching his sons Jeff and Robb when they played. His academic career took him to positions throughout Canada as well as Hong Kong and Singapore, which interfered with his youngest son's hockey aspirations.
Notes Hunter: "Robb says 'if my parents hadn't taken me to Singapore, I would be in the NHL.'"
Article originally published at https://lethbridgeherald.com/news/.