"Those I spoke with said the course provides a valuable service by preparing teachers to take on leader­ship roles, and it was worth having a virtual course," said Prytula, the dean of the College of Education at the University of Saskatchewan (USask). "They suggested cutting back the number of daily sessions from seven to five and making sure each session offered provided high impact to participants. We are all very aware of the risks of online fatigue."

Run by the Department of Educational Administration's Saskatchewan Educational Leader­ship Unit, the four-day course has a 56-year history of engaging with current, new and aspiring adminis­trators around the theoretical and practical concepts of instructional leadership and helping participants build and refine their skills.

"We had 12 outstanding super­intendents and directors from across provincial and First Nations education authorities agree to partic­ipate as small group facilitators in this revised format," said Prytula.

Prytula worked closely with Kevin Sharp (BEd'96), the college's IT co-ordinator and the brains behind the successful move online, to develop the course format using WebEx technology. To control the quality of the online experience for participants and avoid technical disruptions, presenters and facilita­tors streamed to participants from the Education Building.

"We had an incredibly talented College of Education team working behind the scenes to re-envision the course," explained Prytula. "We received approval from the USask Pandemic Response Team to administer the event from campus while following safety protocols."

With the move to an online format, the course became accessible for educators across the province and beyond who would not have otherwise been able to make the time and travel commitments required.

"Over a third of the 148 partici­pants were educators from northern and First Nations communities province-wide and we received excellent feedback regarding the online experience," said Prytula.


"Our undergraduate student assistants were exceptional, and used social media to complement the course sessions and encourage participants to engage with us and each other."


Tammy Robinson (BA'05, BEd'12, MNGD'16), superinten­dent of schools for Lac La Ronge Indian Band (LLRIB), joined the course as a participant, along with enrolling eight administrators from LLRIB.

"The sessions focus on real issues and what we're dealing with on a day-to-day basis in our schools," said Robinson. "A few of our participants probably wouldn't have been able to make it, had it not been offered online."

Kevin Cameron, a North American expert on trauma-informed school leadership, delivered a session highlighting strat­egies to implement as the province prepares for re-opening schools during the ongoing global pandemic. Timely sessions included anti-racist and anti-oppressive approaches to education, as well as supporting technology in instruction.

"Adrienne Schenk (MEduc'12), with the Sask Rivers School Division, spoke to the importance of supporting sexually and gender diverse students," said Prytula. "She deliberately included the intersectionality of race and gender in those discussions and how leaders can hold space for students to explore their multi-faceted identities. This session was critically important and timely given the Black and Indig­enous Lives Matter movements."


For Grade 12 French Immersion Social Studies and Language Arts teacher Beatriz Bonilla Sand from the Lloydminster Catholic School Division, several presentations provided her with practical tools for starting conversations around challenging discussions.
"USask professor Dr. Verna St. Denis (BEd'82, PhD) specifically provided important historical background which gives me the tools to respond to students and other stakeholders when they have comments and questions that are grounded in systemic racism," said Bonilla Sand. "I can now see the root of where those ideas come from and can respond with more confidence than I have in the past."
A new participant, Bonilla Sand plans on returning next year. "The opportunity to learn from such deeply respected leaders was more than I had anticipated. The quick adaptation to online was so well done. I was very impressed."


As for next year, Prytula said it is unlikely that the program will return to its pre-pandemic format.

"Although it was initially quite intimidating, we learned so much about the benefits of going online, especially regarding participant access. While I don't know what the format will be next year, we will keep elements of remote learning in order to reach as many school leaders as possible."
COVID-19 cleaning of Education Building key component of summer course success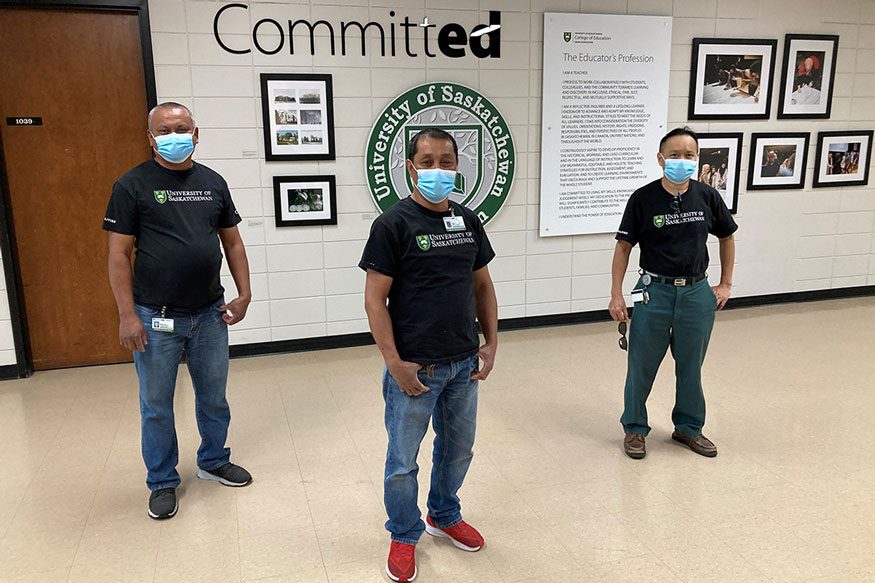 University of Saskatchewan facilities staff have been hard at work ensuring buildings are safe for the limited few employees on campus.

To prepare the College of Education building for the Saskatchewan Principals' Short Course, Viren Vaghela, the assistant manager of preventative and custodial operations, worked with staff members Vipeth Sisouvong, Miguel Gonzales and Edgard Gilo for weeks to prepare for the event. Over a dozen classrooms and washrooms throughout the first, second and third floors were given a deep clean. Floors were swept, cleaned and buffed, carpets vacuumed, and entrance windows washed. The ventilation system was also turned up three days prior to the four-day course.

During the event, only one entrance to the building was open, in order to manage traffic. Hand sanitizing stations were placed at the entrance, the main floor lounge where individual lunches were served, and throughout the rooms used. During the course, washrooms, high-touch surfaces and floors were cleaned throughout the day. Hallways in the building were wide enough to avoid the use of directional signage, and staff and presenters were able to adhere to physical distancing guidelines to ensure the course was completed safely.
Article originally published at https://news.usask.ca.