Kenney Liu's job in a pizza parlour wasn't your average after-school gig.
In 2012, Liu—then a second-year economics student at the University of Saskatchewan (USask)—purchased Homer's Pizza, becoming CEO and franchiser of his own Saskatoon pizza chain at age 22.
Liu (BA'15) spent the next few years as a full-time student and a more-than-full-time business owner, managing the restaurant's Eighth Street location while training and advising franchisees at other sites.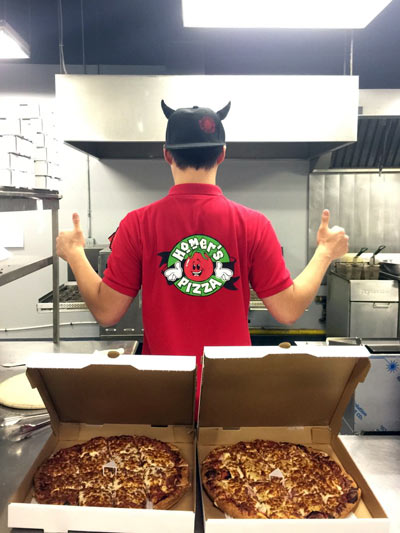 Doors opened at 11 am and closed sometime between midnight and 3 am each night. Liu would be in class at USask the next morning by 8:30.
"Sometimes when you make a decision, you have to make a sacrifice. And the sacrifice I made was sleeping time," said Liu.
By studying on his way to and from campus and taking extra courses in the summer, Liu was able to finish his Bachelor of Arts degree by 2015.
Those sleepless years spent running restaurants and studying economics proved to be perfect training for Liu's current role. Now 32 years old, Liu is founder and CEO of the CPM Group, a fast-growing set of companies based in Saskatoon that deal in everything from international trade to digital technology platforms.
"It was busy. It was crazy busy. But it was also a good experience for me to learn a lot of things," he said.
The son of two business professionals, Liu grew up in Hebei, China, where he learned English at a foreign language high school. After graduating, he applied to study at several North American universities.
Liu chose to attend USask knowing almost nothing about the university except that it had an interesting and unusual name. The small prairie city of Saskatoon was a culture shock compared to the crowded and highly developed urban environment from which he arrived.
"I was expecting Saskatoon to be more like Beijing, Shanghai or New York, or something like that. But after I lived here for 12, 13 years, I started to love this place. I started to love the people here," he said.
With his sights on a career in business, Liu chose to study economics in the College of Arts and Science.
"(Economics) is the basic knowledge that gives you unlimited potential for what you could do in the future. Whether finance or management or whatever it is, it comes from economics," said Liu.
In 2017, two years after graduating from USask, Liu returned to China for a visit. While there, he had a chance to meet with some prominent CEOs and angel investors whose visionary outlooks caused him to think differently about his future.
"I realized there's a lot of things I'd missed. When you run a restaurant, every day you just think about the dough, the pizza sauce, the chicken wings," said Liu. "I started realizing the restaurant industry is not the area that I'm supposed to (work in) for the rest of my life."
Soon after returning to Saskatoon, Liu sold Homer's Pizza and started his next venture.
He founded CPROMO, a tech startup specializing in digital marketing, and CPM Supply, an import/export company focused on environmentally sustainable products. The companies' mission: to help businesses do better business.
Liu's first customers were small restaurants in Saskatoon—a market he understood well from his time with Homer's Pizza.
Continue reading the full article at https://artsandscience.usask.ca/.