Despite her passing, the legacy of long-time community wellness activist and strong supporter of Saskatoon Cycles, Cathy Watts (BSPT'85), will live on to create a better and stronger community on campus and beyond.
Watts' husband, Trent, said she would be beyond thrilled at the creation of a scholarship in her name. Trent was approached by a group who were eager to create a legacy project in Cathy's memory. Thus, the Cathy Watts Memorial Scholarship was born with a focus to support students who study in areas where the enhanced mobility of others will benefit to make a difference.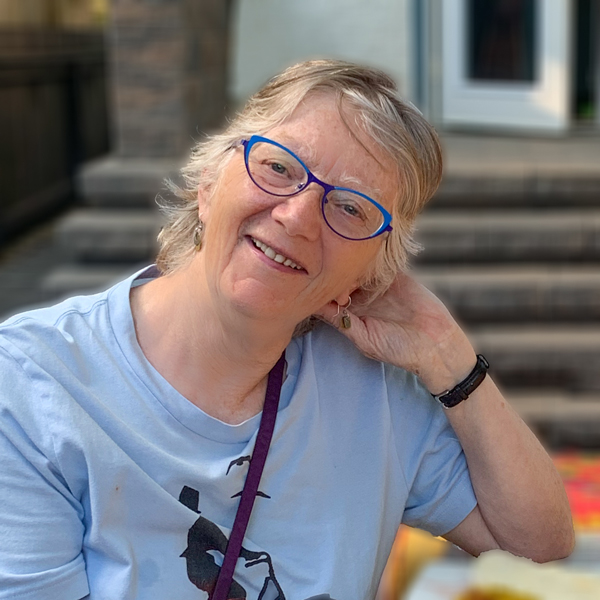 "I can just hear Cathy. If she was here now, she would say, 'Holy Dinah. I can't believe it.' I think she would have been overjoyed with the fact that people interested in what she believed in would be aided in that pursuit now."
A debilitating stroke last fall may have diminished her communication, but not her spirit. Just one week after suffering that stroke, Watts was able to witness a phalanx of well-wishers and friends numbering into the hundreds parading past the family home to offer her support.
She watched as much as she could, recalls husband Trent (DVM'73), but was no longer able to communicate her appreciation to everyone as she would have preferred.
"It really was remarkable. People just started coming. They were dressed up and they had their bells and ringing them," recalled Trent, who would have celebrated 50 years of marriage with Cathy this June.
"She was just so pleased to see everyone. I said to her, 'Cathy, I don't know anyone else in my life who's ever been present at their own funeral. But this is it. You are present and you know what's going on.' "
Cathy was overwhelmed with gratitude after seeing so many people take the time to come by their house and say goodbye. A few days later, she passed away with her family at her side.
"There's nothing more we could have done that would have been more meaningful to her than having all these people go by and tell her they loved her."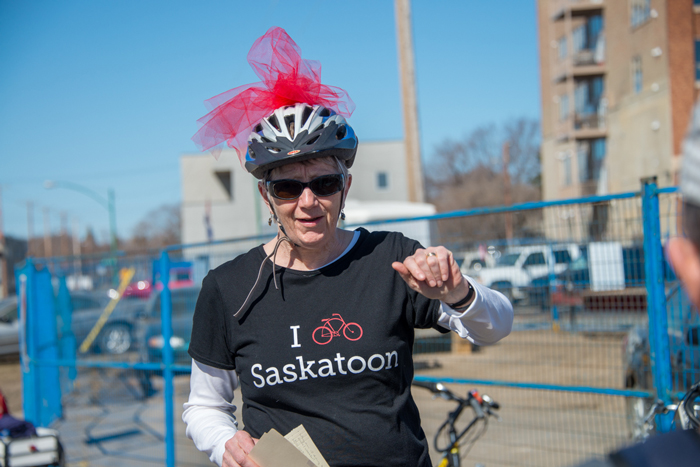 Cathy's legacy of community activism is living on through a USask scholarship in her memory, the Cathy Watts Memorial Scholarship, which already has raised $40,000 to date.
After her passing, a groundswell of support for a legacy project for Cathy from the community took hold quickly.
"Within a very short period of time, there was just a huge outpouring of support just to get the fund going," said Trent. "I just thought I wanted to put all my financial and family resources into this scholarship because I think in so many ways, it brings together all of the things that Cathy was about in terms of supporting students and learning."
Students, both undergraduate and post-graduate, who are studying in an area of active transportation or issues around that would be eligible to apply for the scholarship.
"So, you could be a kinesiology student that has this idea on making better surfaces for wheelchairs to access. You could be a physiotherapy student who wants to figure out a better way to get people ambulatory on our trails. There are so many different ways to access this scholarship."
Trent said his wife would have been thrilled to see her legacy continue through the scholarship.
"I couldn't think of a better way to carry her name forward in such a meaningful way. In many ways, it embodies so much of who she was because it involves education, it involves youth, it involves action, it involves a whole range of disciplines that cross a whole range of boundaries of education and knowledge. That's what she was about."
If you want to be a part of Cathy's vision of supporting active transportation and her legacy to our community, please consider supporting the Cathy Watts Memorial Scholarship.