With one athlete, one official and two coaches, the University of Saskatchewan (USask) and Huskie Athletics will be well represented by USask alumni at the 2022 Olympic Winter Games and the Paralympic Games in Beijing this month.

For Lieffers, it will be the culmination of a dozen years of working her way up the ranks as a hockey referee, as she takes a month off from her duties as an elementary school teacher in the town Asquith, just west of Saskatoon, to take part in the world's greatest sporting spectacle.

"This has been a dream and goal that I have been working towards," said Lieffers, who earned kinesiology (2017) and education (2018) degrees at USask. "I remember the first time someone made the comment, 'you have potential and one day we are going to see you at the Olympics.' I kind of laughed at the comment and now looking back on that, it is kind of a surreal feeling that I have accomplished that goal and I am going to be skating on the Olympic ice. It is definitely something I am really looking forward to."
Lieffers will work the Olympic women's hockey competition, scheduled for Feb. 4-17, while Coakwell will take his third shot at winning an Olympic medal in the four-man men's bobsleigh on Feb. 19-20, after coming up short in the 2014 Olympics in Sochi, Russia and the 2018 Winter Games in PyeongChang, Korea.
"In my first Olympics we crashed, which was my first crash ever, so that was pretty tough," said Coakwell, a former five-year Huskie football player and track and field athlete who studied science at USask. "We were in a position to win a medal, but we crashed, so that was pretty much a disaster. Except for the overall experience, which is not something that I look back negatively on. And then in PyeongChang, we were 10th and it is just one of those things where, on that given day, we just were not as fast as we wanted to be. But, after that, our four-man team came together and we have been winning medals ever since."

Serving as Canada's driving coach, Rush works with Justin Kripps, the driver on Coakwell's four-man bobsled crew, and is supporting the team's push to the medal podium in Rush's fourth Olympic Games – two as an athlete and two as a coach. The chance to play a part in helping a fellow former Huskie earn his Olympic medal makes it even more special for Rush.

"Ben has had a long, outstanding career and he kind of made his way up through the ranks to be the real leader on the team that he is now and it would be really cool if they can pull this off," said Rush, who also played five years of Huskie football and earned a bachelor's degree at USask. "They are a strong team, a strong four-man crew. They have been together this whole (four-year) quad, the same crew every race, which is really important. The teams that have been together longer, they are the ones that show up when the big races are and they have that experience. And we know we have our home province of Saskatchewan backing us."

Meanwhile, Babey is focused on coaching Canada to golden glory in Para hockey from March 5-13, after earning silver following a heartbreaking 2-1 overtime loss to the United States in the gold-medal game in the 2018 Paralympics.

"The team's focus, as you can appreciate, is always gold when you represent Canada in hockey, whether it's men's, women's or Para," said Babey, a legendary former Canadian college hockey coach from Saskatoon who earned a Bachelor of Education degree at USask in 1979. "We feel that we have a very good team that has a good mix of experienced players and some young new talent that is highly energized and fast and skilled. So we like our chances, but we know it is going to be a challenge."
Lieffers' long road to China
Raised in Cudworth, Sask., and now living in Saskatoon, Lieffers' long road to working the Winter Olympics has included officiating minor hockey, junior leagues, university, and international competition in the province, across the country and around the world. Lieffers began working as an on-ice official in high school and continued throughout her university studies at USask, which she said helped prepare her well for life on the ice and in the classroom.

"My studies in the College of Kinesiology and the College of Education have really helped me succeed in both paths of my career," said Lieffers, who regularly works Huskie hockey games and once officiated one of the longest games in university hockey history that went into four overtime periods in 2014.

"Because of the College of Kinesiology, I was able to gain information and knowledge and I was able to apply it to training off the ice in order to perform better on the ice, so it definitely helped me. I think referring and teaching kind of go hand-in-hand, with the skills needed for both jobs. I think being a referee has made me a better teacher, and vice versa. And the things that I learn in the classroom and through the College of Education have helped me on the ice."

With Beijing largely in lockdown for the Olympics, Lieffers said she is confident in the pandemic public health measures in place to keep all athletes, coaches and officials safe.

"It will be a 'bubble' format, so everybody coming into the Olympics has to be fully vaccinated and produce a number of negative COVID tests before we enter the bubble, to ensure that it is going to be a safe environment for everybody to compete in," said Lieffers. "And we will be restricted in the bubble to the places where we have access to and are allowed to go, and there will be daily testing done right on the spot, with instant results. So, they are definitely doing everything they can to ensure that all the measures are put in place to keep us safe and healthy while we are there."

As she heads halfway around the world, Lieffers is planning to bring a little bit of home with her to Beijing for her first Olympic experience.

"I have some University of Saskatchewan T-shirts and actually one of my favourite hoodies is a Kin hoodie, so that will probably end up going in the suitcase as well," she said, with a chuckle. 
Coakwell answers the bell again
Truth be told, during his time as a Huskie, Coakwell never really imagined he would one day become a three-time Olympian.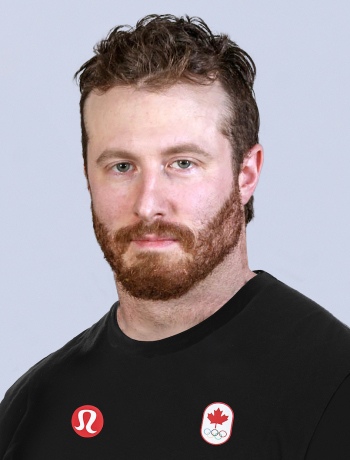 Born in Regina and raised in Moose Jaw, Coakwell headed north to Saskatoon in 2005 to play five seasons of Huskie football, etching his name in the record books with the fifth-most career rushing touchdowns (16) and leading the team in rushing in 2010 and 2011. It was during his Huskie career when he was first asked to consider bobsleigh, but it was not something he took all that seriously.

"The Olympics weren't really in my mind," said Coakwell, who played in two Vanier Cups in 2005 and 2006 and from afar followed the Huskies' run to this season's national championship final. "I started to be recruited by Bobsleigh Canada when I was in my second-last year with the Huskies, but I didn't know much about bobsleigh outside of (the movie) Cool Runnings. I thought about it, but not in any real sense.

"But one of my coaches was quite supportive about the whole thing and felt I really should do it and talked to me about how the opportunity to go to the Olympics was very real for me. I obviously didn't fully believe it, but I listened anyways because I thought that would be pretty cool. And now here I am."

Coakwell's explosive power and speed as a running back proved a perfect fit for pushing a bobsled, and he quickly rose through the ranks. Now in his 10th year in the sport, Coakwell credits College of Kinesiology associate professor Bart Arnold with giving him the push he needed.

"Being at the U of S and working with Bart Arnold in the College of Kinesiology, he worked closely with me unlocking my athletic potential," said Coakwell. "He is a guy who really believed in me and he pushed me pretty hard to challenge myself."

Coakwell is the brakeman on the Kripps sled, which is ranked second overall in the World Cup four-man standings heading into the Olympics. Coakwell is also now tied with Lascelles Brown for the record of most career World Cup medals (17) in four-man bobsleigh by a Canadian brakeman.

Like Lieffers, Coakwell will be taking a little bit of USask with him to China.

"I have two pieces of Huskie clothing that I always bring with me," said Coakwell, who was named Sask Sport's December Athlete of the Month. "One is the first sweater I ever got, a little fleece sweater that is too small for me now, but I wear it all the time. I also have a green Under Armour Huskies shirt that says 'All In' on the back and that was like our team slogan that season and that's something I have used in bobsleigh. I am an all-in guy, and if I am going to do something, I am going to do it right."
Born in Saskatoon and raised in Humboldt, Rush won a bronze medal as the driver of Canada's four-man Olympic bobsled team at the 2010 Vancouver Winter Olympics, after completing his Huskie football career as a linebacker and defensive end.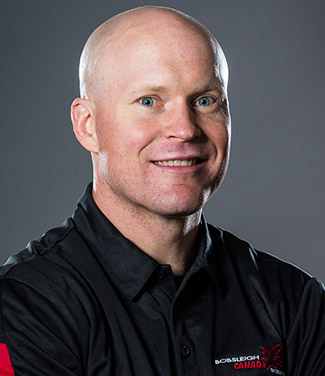 Like Coakwell, Rush was recruited by Bobsleigh Canada after he completed his Huskie career in 2003 as a Canada West conference all-star and has been with Team Canada ever since.

"We've had a few former Huskies go through the (bobsleigh) program, so it has been a pretty good solid 10, 15 years of a pipeline from Saskatoon to Calgary," said Rush, who completed his Huskie career two years before Coakwell came to USask. "The Huskie football program is very successful and there is a reason why. The way that they prepare you, the coaching staff, the things that they taught us, and the team aspect of it, was really important. And in bobsleigh, team is really important and it is a massive part of our success.

"I was good at bobsleigh, but it wasn't because of my physical ability. I was a good driver, but I ran a really good team and I got the most out of my guys and that is a credit to the experiences that I had at the U of S with the football team. It played a huge part in my success in bobsleigh."

Like Coakwell, Rush still follows his former football program, with the two teaming up to send a video message to encourage the team prior to the Vanier Cup final.

"It was really cool following them going all the way to the Vanier this year," said Rush. "I lost a little contact when the whole coaching staff changed a few years ago. Coach (Scott) Flory played two years before me, so I never played with him, but I did play with his brother Trevor. But you are always going to cheer for the Huskies. It was probably the most formative years of my life, the time I spent at the U of S with the Huskies."

Rush has returned to campus a few times since graduating, often working with Athletes in Action, the not-for-profit Christian sports ministry "dedicated to developing the total athlete." Rush was back in 2018 after the Humboldt Broncos bus crash, a tragedy that affected him personally, having grown up in that Saskatchewan town.

"I am with Athletes in Action, and I am from Humboldt, so we came out there to talk with people and do what we could to help," said Rush. "Athletes in Action has brought me back a few times over the years. I'm a Christian, so I was a big part of the Athletes in Action crew while I was on the Huskies and over the years they would bring me in to speak as a former Huskie who has gone on to success after football, that kind of thing. So I like to help out when I can."
Now in his seventh season of coaching Canada's Para hockey team, Babey is honoured to have the opportunity to represent his country on the international stage once again.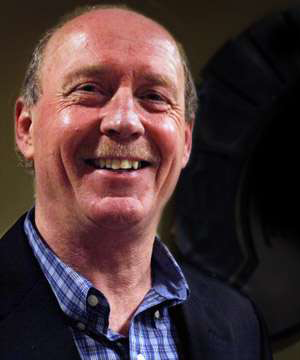 "The Paralympics is a once-in-a-lifetime experience and I am very fortunate to get to experience it twice in my lifetime," said Babey, who was the winningest coach in Canadian college hockey history with 534 victories over 27 seasons at the Southern Alberta Institute of Technology in Calgary. "This one will be definitely different considering the COVID situation around the world and considering we are going to China and all that goes along with that in terms of preparation and extra security and that kind of stuff. But I think the team is very excited."

Babey, who heads overseas with Team Canada on Feb. 25 to enter the Beijing bubble, always makes a point of going back to the USask campus when he returns home every year.

"I go out a few times a year to visit my mother, who still lives in Saskatoon, so I always go to campus to see what's new," said Babey, who is now based in Calgary with Hockey Canada. "The University of Saskatchewan is a great school. And I believe that my education degree helped me get my coaching career going for sure."
Oatway out of Paralympics
USask alumnus Kurt Oatway (BSc'10), a Paralympic gold medallist at the 2018 Games, will not be able to compete in his third Paralympics after undergoing surgery following a serious shoulder injury he suffered at the World Para Snow Sports Championships last month in Lillehammer, Norway. Oatway, who graduated from USask with a Bachelor of Science in 2010, competed in Para alpine skiing in the 2014 Paralympics in Russia and the 2018 Paralympics in Korea.
Article originally published at https://news.usask.ca.