Ron and Jane Graham are asked…why?
After supporting several areas strengthening USask's profile—establishing student scholarships, bolstering critical research, launching academic programming and schools, and funding athletic enhancements and facilities that bear their names—why do they continue to give millions of dollars back to their alma mater?
Their answer is as expansive as the many areas they have passionately supported at USask for decades.
USask is home for Ron and Jane
Already the largest cumulative donors in USask's history, Ron and Jane Graham once again made a multimillion-dollar gift to their university at an event in September. Their most recent gift, totaling $5.9 million, includes contributions of $3 million to Huskie Athletics, $1 million to the Vaccine and Infectious Disease Organization (VIDO), $1 million to the College of Education and $900,000 to the College of Engineering.
"We always want to be there when there is a need to support the university. We like to give and stay connected. This is home to us," said Ron. "Our family has such a history with this university. My father graduated in '34. Our oldest son Jeff, his wife Cindy, and all three of our grandchildren have graduated from the university. It's very special and rewarding for us to give back."
Ron and Jane know that the world needs USask research
As pandemic restrictions compromised international travel through most of 2020, Ron and Jane had to postpone plans to celebrate their 60th wedding anniversary celebrations until this year. The pandemic also kept the Grahams from visiting their grandchildren and great-grandchildren in Saskatoon for nearly two years.
Ron and Jane were eager to support VIDO's fight against infectious disease prior to the pandemic, but had a clear direction to help after witnessing the global impact of COVID-19.
"The pandemic reinforced how important it is to enhance VIDO's facility. They needed local support, so we stepped up," said Jane. "It's vital to have the facility here at the university. The university is so involved in food, water, plant and animal research areas and have had huge federal grants as well, so it all just tied together."
The $1-million gift to VIDO will help establish VIDO as Canada's Centre for Pandemic Research—a national centre that will support the response to future human and animal infectious diseases. Substantial enhancements to the facility would allow researchers to study all existing and emerging infectious diseases and develop new vaccines, from research and discovery to production.
"We are extremely grateful for the incredible support we have received from community leaders including Ron and Jane," said Dr. Volker Gerdts (DVM, PhD), VIDO director and CEO. "Their donation will help to ensure that cutting-edge research happens here in Saskatchewan."
Ron and Jane "bleed green and white"
The $3-million donation to Huskie Athletics is comprised of gifts of $1 million each to the Huskie football team, and men's and women's basketball teams.
Supporting Huskie Athletics is nothing new to Ron and Jane, former Huskie athletes themselves. In addition to founding several student-athlete scholarships, Ron and Jane's funding efforts have included the addition of the dedicated training basketball courts to Merlis Belsher Place, as well as the development of the Ron and Jane Graham Sport Science and Health Centre, and expansion of the new Graham Huskie Clubhouse and its two-storey addition at Griffiths Stadium.
In 2018, the gymnasium floor at the Physical Activity Complex on campus was redesigned and named "Ron and Jane Graham Centre Court" in recognition of their contributions.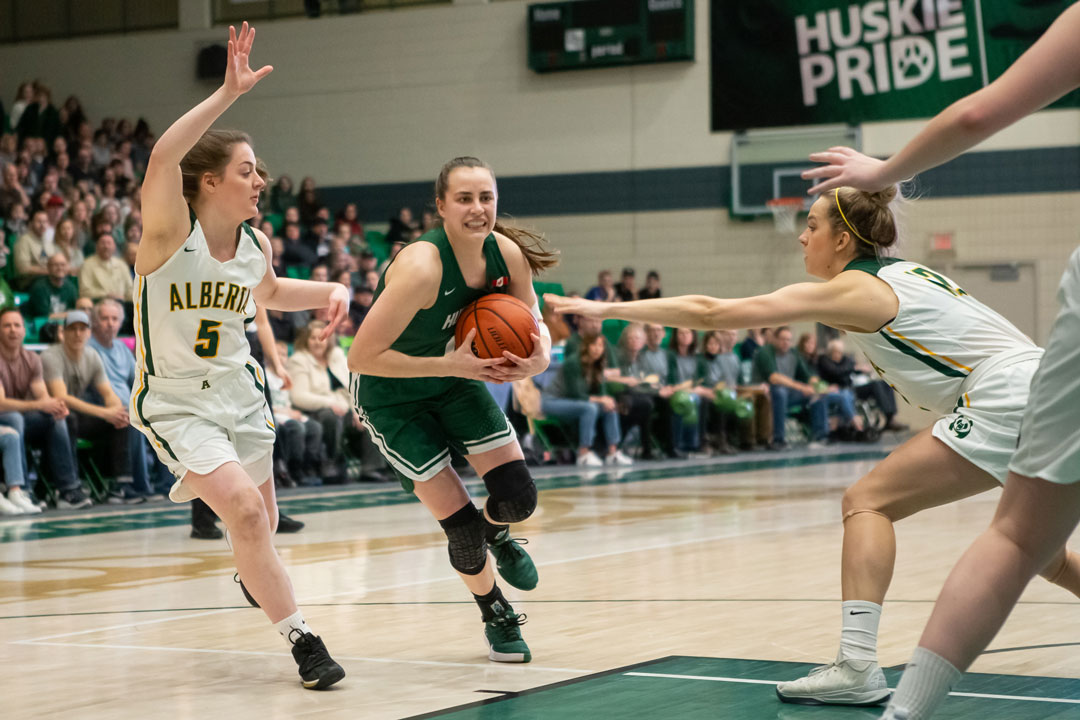 In addition to missing loved ones and the celebration of their 60th wedding anniversary, the pandemic also prevented Ron and Jane from enjoying their favourite pastime—watching Huskie football and basketball, taking road trips to watch them. 
"There was a big hole in our lives," Jane said. With athletic competition resuming this season after a year hiatus, Ron and Jane are excited to hit the road and gear up in green and white. "We go to games and talk to players, so we're quite involved in listening to the needs of the team," said Ron.
In addition to scholarships, the funding for each team will be used to acquire innovative equipment and technology, fund coaching support, and explore new travel opportunities for international competitions and skill development.
Still competitors at heart from their time as student-athletes (Ron played football and basketball; Jane was a swimmer), the Grahams want the Huskies to have the best student-athlete experience en route to victory.  They are hopeful that fellow Huskie Athletics supporters and alumni will join them in making gifts to ensure the Huskies have comparable coaching and resources that are available to counterpart athletic programs in Canada. Ron recalls watching a particular Huskies basketball game a few years ago, noticing the disparity between the number of assistant coaches on the opponents' sideline compared to the Huskies, and wanting to even the score.
"We want to have the teams, coaches, and most importantly, the players, to have the same resources as the teams they're competing with," he said. "If they're short in some areas, we see where we can help and make it a more balanced playing field."
Ron and Jane remember humble beginnings and want better opportunities for future generations
The $5.9-million donation also includes gifts to the colleges from which Jane and Ron graduated, the College of Education and the College of Engineering, respectively.
Jane recalls the challenges of her early days as an educator, working as a physical education teacher after only two weeks of practical classroom experience, which was common at the time.
"It was sink or swim—it was hard," she said. "As a brand-new teacher, you have no concept of the interaction in the school you're entering. Because I was in a gym all day, wearing a gym uniform, I didn't have much interaction with other teachers. It was an odd experience."
To help the next generation of educators be classroom-ready entering the profession, $1 million of the gift will support the Jane and Ron Graham Centre for the Scholarship of Teaching and Learning in the College of Education. Established with the couple's $1-million donation in 2019, the centre supports applied research in the area of teaching and learning in higher education. Unique in North America, the centre now offers the first graduate degree in the scholarship of teaching and learning in Canada.
"The College of Education is grateful for Jane and Ron's support and belief in the far-reaching impact this research will have on students of all ages," said Dr. Beth Bilson (PhD), interim dean in the College of Education. "Thanks to their generosity, the centre will train graduates with the knowledge and tools to find practical answers to the challenges that educators across academic disciplines face every day in their classrooms."

The Grahams are also donating $900,000 to the College of Engineering. As an engineering alumnus, Ron is familiar with how first-year engineering programs have a reputation for being a wringer, noting his nervous feeling after being told during his orientation that only one out of three students, on average, would continue in the engineering program. A $500,000 gift is supporting the college's newly launched RE-ENGINEERED program for first-year students, featuring completely redesigned course content and class scheduling, as well as testing and evaluation that prioritizes helping students gain key skills.
The college's Ron and Jane Graham School of Professional Development (SoPD) will receive a $400,000 boost. Founded in 2012, the SoPD offers courses and certificates in areas such as communication, tech entrepreneurship and leadership, and will expand to offer alumni continued learning opportunities.
"It's hard to overstate the impact that Ron and Jane have had on the College of Engineering," said Dean Suzanne Kresta. "Their early and unequivocal support provided our team with the runway we needed to redevelop the first-year program in a transformative way. Today, engineers and engineering leaders need a broader skill set than ever before. This program steps up and helps us deliver those values – values of teamwork, mastery of foundational skills, and the ability to engage with multiple perspectives."
Ron is hopeful that RE-ENGINEERED will help students foster a love of engineering and build a solid foundation for their career.
"It's been rewarding to have so many graduates go on to start their own construction companies in Western Canada," he said. "I'm looking forward to seeing more engineers follow in these footsteps."
Ron and Jane's bond with students is life-changing
The common thread with the Grahams' giving to USask is the passion to support students and the life-long relationships that their donations help forge. Jane proudly recalls an instance of receiving a thank-you from a student-athlete from inner-city Los Angeles entering the police force after graduation. "A wonderful young man. Just the perfect example of what you would want from a graduate," she says. The Grahams' support of his tuition allowed him to continue studies at USask after his mother passed away from cancer.
Whether the challenges are make-or-break for the student, or they just need an extra boost, the Grahams have always taken pride in making meaningful and memorable connections.
"It's great to have a connection with the student, even once they graduate. They'll come up to you on the street or when you're at a restaurant and they'll thank us and tell us that we have made a difference in their lives," said Jane. "I'm just happy to see that the university still has such an impact on these students. It has changed our lives."